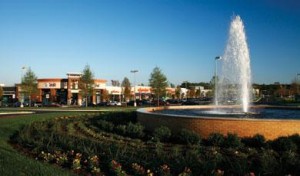 Correction/Clarification: An earlier version of this story ran with the headline "Georgia firm goes shopping in Henrico." Cole Real Estate Investments is based in Phoenix, Ariz. Developer Forest City, made net proceeds on the deal of $16 million.  
In one of the biggest local deals of the year, an out-of-town real estate firm closed in September on the purchase of a massive shopping center in eastern Henrico County.
Phoenix-based Cole Real Estate Investments bought 61 acres of Shops at White Oak Village in a $68 million deal that was inked early last month. In total, Cole purchased about 440,000 square feet of the shopping center.
The property, located on Laburnum Road near the airport, had been owned by Cleveland-based Forest City, which developed the 900,000-square-foot center in 2008. The project in total cost about $150 million, according to reports at the time. Those costs were shared by Forest City and the numerous retailers that built at the center. Forest City made net proceeds of approximately $16 million from September's sale.
Gary McManus, a spokesman for Forest City, said the sale of White Oak Village was prompted by the fact that it is different from many of the company's other properties, which include Short Pump Town Center.
"If you look at our portfolio, we have very few big-box centers," McManus said. "Most of our centers are more like Short Pump Town Center, which has been a phenomenal property for us. So what we were hearing from Wall Street was that we needed to focus better on our core products. White Oak didn't seem to quite fit into that category."
Forest City developed Short Pump Town Center and the Richmond Office Park near West Broad Street and Glenside Drive. The office park has more than 570,000 square feet of space. Forest City also owns several buildings on Tobacco Row with more than 700 apartments.
Scott Holmes, head of retail acquisitions for Cole Real Estate Investments, said in a statement that White Oak Village was the kind of center the firm looks for.
"This acquisition fits our disciplined investment criteria which includes strong national anchor tenants with long-term leases, a densely populated trade area and an excellent location along a high-traffic retail corridor," Holmes said.
The shopping center is anchored by Target, Lowe's, JCPenney and Martin's. Large portions of the 136-acre property were previously sold off to key tenants, such as Lowe's and Target.
For example, Forest City sold Lowe's its parcel in August 2007 for $3.8 million, according to county records. Target bought its parcel around the same time for $3.2 million. CoStar records show about 72,000 square feet of vacancy at White Oak Village, which is about 8 percent.
Forest City developed the property in conjunction with Pruitt Associates, which was also its partner on Short Pump Town Center.