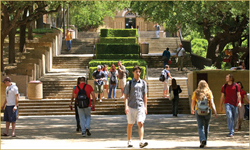 The average Virginia college graduate leaves school with $24,717 in debt, according to a new report  by the Institute for College Access and Success.
Virginia students had the 23rd highest debt levels in the country, according to the report. Students in the Northeast and Midwest tended to have most, and schools in the South and West were on the low end.
About 59 percent of Virginia students leave college owing at least some money.
Students from Ferrum College, a private liberal arts school near Roanoke, graduated with $9,313 in debt the least in the state. Alumni of Hampton University had the most, with $36,917.
New Hampshire students topped the list with an average debt of $32,440, and Utah rounded out the bottom with $17,227.
The institute, a nonprofit group that researches ways to make college more affordable, analyzed data from four-year public and private institutions that offer bachelor's degrees. The numbers are for the class of 2011.
For a full list of Virginia colleges, click here.