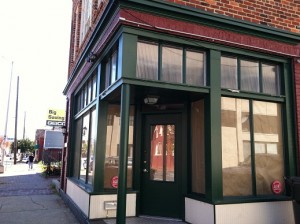 A pair of Capital Ale House employees are splitting off and launching their own restaurant in Jackson Ward.
Jay Bayer and Adam Hall are getting ready to open Saison in the former Marshall Street Cafe and Jazz Bistro at the corner of Marshall and Adams streets just off West Broad Street.
"Saison is a new concept that I think is pushing what's available in Richmond and in the neighborhood," Bayer said.
He and Hall purchased the assets, including the ABC license, of Marshall Street Cafe, which closed in late August. They plan to open Saison in late November. Bayer would not disclose the purchase price.
Bayer and Hall are leasing the space from owner the Hanson Company, run by developer Kelvin Hanson.
Saison will feature Southern-style food with a Latin American touch.
"Chicken and waffles is a classic Southern dish," Bayer said. "Our version would be a sweet potato waffle with a buttermilk-marinated duck breast and cilantro-lime zest."
Another example is Saison's braised short ribs with guajillo chilies on goat cheese grits with toasted pumpkin seeds, Bayer said.
Prior to his time at Capital Ale House, Bayer worked at Galaxy Diner. It was while he was at Galaxy that he started getting into craft beers. After studying brewing at Chicago's Seibel Institute, he returned to Richmond and applied what he learned to his job bartending at Capital Ale House.
There he met Hall, the kitchen manager at the downtown location. The two started developing a business plan for Saison and talking with banks about financing.
"We wrote up this awesome business plan and went around to all the banks we knew that did lending for restaurants," Bayer said. "And they seemed interested, but when they saw what we were doing, they were like 'Oh, startup restaurant? See ya later.'"
To start Saison, Bayer and Hall pooled their savings and found some private investors.
"The good thing is I don't have to pay anybody interest," he said. "We're going for a rustic, farmhouse look in the space, and we'll be using a lot of reclaimed materials so it will keep the costs down."
The restaurant will seat about 30 in the dining area and 10 at the bar, he said.
Beers will run from $3 to $10, and the cocktails will be between $8 and $12. For food, Bayer said appetizers and small plates will be $8 to $12 and entrees will run $15 to $25.
Saison's arrival was first reported on Greater Jackson Ward News.