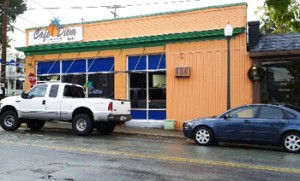 One week after a Museum District pub went dark, two restaurant owners in the same neighborhood have signed a lease to bring it back to life.
Sean McClain, owner of Banditos, and David Bender, who owns Caliente, are teaming up to open the Viceroy in the old Cafe Diem location at Patterson Avenue and North Sheppard Street. The pair signed the lease Wednesday morning.
"We could either let someone new come in and compete with us, which is fine, or we could do something good for the neighborhood and start something on our own," McClain said.
"Nobody in the neighborhood will tell you they were happy Diem was what it was. This neighborhood has come a long way in 20 years, but Diem didn't fit into that," he added.
Cafe Diem was locked out of its space in a neighborhood known as the Devil's Triangle on Oct. 15 after defaulting on its lease.
McClain said the Viceroy would cater to an older crowd.
"The neighbors are in their 40s, 50s and 60s, and what we're trying to do is give them a place in their neighborhood that they can claim as their own," he said.
McClain said Viceroy would be a little more upscale and would serve American food. First, though, they are going to gut the restaurant. The pair will try to take advantage of historic tax credits for the space.
Finances and how much the restaurant will cost are being worked out, but McClain said he hoped to have Viceroy open by March. The space is managed by Bandazian and Holden.