When a Hanover County location of the outdoor sports store chain Gander Mountain closed in July, it didn't take long for a local store to bag the space.
Green Top Sporting Goods, which opened in 1947, moved into its new location in October, and business has boomed. The store is more than five times larger than its original location about a quarter of a mile away on Route 1.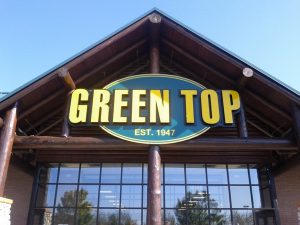 If you aren't comfortable around guns, Green Top isn't the place for you: The back wall of the large store is lined with them, two rows high. On top of hundreds of rifles and handguns, the store has every kind of fishing rod you could imagine along with wide selection of crossbows, duck decoys and camouflage-pattern bib overalls.
BizSense caught up with Bill Prout, a Richmond native, Vietnam veteran and president of the company, to talk about the new store. Prout, 67, started working for the company in 1996 after a career as a certified public accountant.
Below is an edited transcript.
Richmond BizSense: How's business at the new location?
Bill Prout: Robust. Thursday through Sunday are our busiest days, but even Monday through Wednesday, traffic has been up about 50 percent over what it was at the old location.
RBS: How do you explain that?
BP: We're not 100 percent sure. I think overall it's a much better shopping experience at the new store. On busy days [at the original location], it was shoulder to shoulder, and it wasn't a pleasant experience. So with the extra space it just looks better, and it flows more.
Another thing we're seeing is an increase in traffic among females. We were hoping it would happen, but we didn't expect it to happen this quickly.
RBS: What do you attribute that to? Are more women getting involved in hunting and fishing?
BP: It's hard to tell for certain. We didn't have much of a clothing business in the old store, because we just didn't have the space. So we've expanded our clothing area, and that's attracted women. Also our gifting area has been expanded.
RBS: Speaking of space, how large is the new location?
BP: The old store was about 12,000 square feet. The new location is close to 67,000 square feet. Gander Mountain was a corporate store, so they didn't need a whole lot of office space. We set aside about 13,000 square feet of office space, so we have almost 55,000 square feet of retail floor space.
RBS: What was the biggest challenge in scaling up that much?
BP: The biggest issue was working out the adjacencies on the floor to where there was a natural flow from hunting to fishing to archery, etc.
RBS: Did you make any hires?
BP: We've added 14 new employees since opening the new store. We have 96 employees now.
RBS: Is there any seasonality to your stock? Do you order certain things at certain times?
BP: At the old store, there was some of that because of space requirements. But now we can pretty much stock everything year round. Now is obviously prime time for hunting, but archery and target shooting is a year-round sport, so we will always have those things in stock.
Fishing is a little more seasonal, but even with that we move fishing gear all year.
RBS: Where do your customers come from?
BP: We draw from central Virginia area to include Northern Virginia. We get customers from Tidewater, Charlottesville and even out to Farmville.
RBS: What kind of sports do you enjoy?
BP: I mostly enjoy fishing. I fish mostly in the saltwater rivers for croaker, spot and perch.