The Pitch is Richmond BizSense's monthly advertising digest. Tell us about your new accounts and campaigns by emailing [email protected].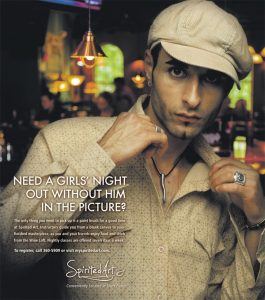 Neathawk Dubuque & Packett of Richmond created a print ad campaign to promote Spirited Art, which calls itself an "optimistic, creative class for folks who want to learn the basics of acrylic painting in the company of great friends and good wine."
The ad plays off the option to "pick up" a paintbrush for a good time.
West Cary Group was honored recently with two Stevie Awards at the 10th Annual American Business Awards in San Francisco. The firm received gold in the energy category for its redesign of Dominion Resources' Project Plant It! website and silver in the advertising, marketing and public relations category for its work on the RVA Creates site.
Hunter Safety System of Danville, Ala., hired the Long Reach Agency to handle all of the company's online marketing activities, including redesigning its website. Hunter Safety System is a designer and manufacturer of deer hunting gear and hunting equipment.
The Colonial Williamsburg Foundation announced Oct. 1 that it had hired the Martin Agency's Ingenuity Media Group to handle the foundation's media planning and buying.
Ingenuity's first media plan will go into effect in the first quarter of 2013 to support work created by McCann Detroit, Colonial Williamsburg Foundation's creative agency.
The John F. Kennedy Presidential Library and Museum and the Martin Agency joined forces for an interactive documentary that marks the 50th anniversary of the Cuban missile crisis. "Clouds Over Cuba," created by the Martin Agency and directed by Erich Joiner and Ben Tricklebank at Tool North America, gives an insider's look into what happened during the 13-day standoff with the Soviet Union in 1962. The full documentary can be seen at CloudsOverCuba.com.

Verizon FiOS used digital marketing agency Create Digital for a campaign with FOX to promote summer blockbuster film "Prometheus." The campaign was a finalist for the OMMA Awards for Online Advertising Creativity.