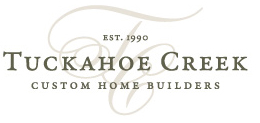 Richmond,VA December 2012 – For the third year in a row, Tuckahoe Creek Construction, Inc, a leading custom homebuilder and remodeler in the Richmond area, has been awarded a 2012 Guildmaster with Highest Distinction Award for exceptional customer satisfaction. GuildQuality, an independent customer satisfaction surveying company, has powered the Guildmaster Awards since 2005 to celebrate service excellence in the building, remodeling, contracting, and real estate professions.
Tuckahoe Creek is one of the nearly 200 home builders, remodelers, developers and contractors throughout North America recognized for their superlative performance by GuildQuality, and one of only three in the Richmond area.
"It is such an honor to be recognized by Guild Quality with this award of Guildmaster with Highest Distinction for the third year in a row," said Tuckahoe Creek Construction president W. Gray Stettinius. "At Tuckahoe Creek, customer satisfaction is of critical importance to us. It is wonderful to earn an award that comes directly from the feedback of our clients."
For over 20 years, Tuckahoe Creek has brought attention to detail and customer satisfaction to the luxury residential construction market in the Richmond area. Tuckahoe Creek takes great pride in each project they undertake and partners with all parties involved to make sure the process, as well as the outcome is held to the highest standard. An extensive portfolio of custom homes, additions, kitchens, baths and unique outdoor living spaces can be viewed on their website at www.tuckahoecreek.com.
About GuildQuality
GuildQuality's community of quality includes the best remodelers, homebuilders, developers, and home services contractors in the United States and Canada. By using GuildQuality's independent surveying, members collect objective feedback from their customers and use that feedback in their pursuit of continuous improvement in the quality of their service.
For more on the 2012 Guildmaster Award winners and qualifications, visit http://www.guildquality.com/guildmaster/.