A Hampton Roads-based gym is pedaling into Richmond.
Tidal Wheel, an indoor cycling gym founded in Virginia Beach, is moving into a 600-square-foot storefront at 5807 Patterson Ave. in the West End. And it's already eyeing a second Richmond location.
Ryan Kelly, Tidal Wheel's co-owner, said he and his partner, Mike Timms, decided to expand to Richmond because of family and business ties.
"Indoor cycling stuff has gotten so big in the city that we thought it would be a great business venture to take up," said Kelly, 27.
Kelly and Timms, both U-Va. grads, opened Tidal Wave in Virginia Beach last fall.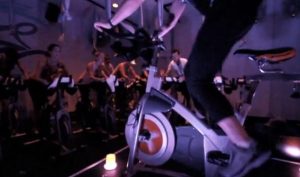 In the classes, participants pedal stationary bikes as an instructor gives commands to stand or sit and pedal faster or slower to simulate riding up hills or over flat roads. Loud music is usually played to energize the cyclists.
The gym will have about 20 cycles but no showers or locker room, because of space constraints.
The studio is expected to open in late August. Monthly membership prices are not yet set, Kelly said, but the gym will probably charge about $20 for a 45-minute class.
The pair is eyeing a larger second location in Richmond and expects to sign a lease in the coming weeks and open that one in September, Kelly said.
Construction on the Patterson Avenue space will begin in July. Kelly and Timms are working with architect Bruce Perretz but have not chosen a contractor or set a budget for the project. The storefront was previously occupied by a barre fitness studio. It is part of the Shops at 5807, owned in part by Leigh Johnson, who also has an ownership stake in the new Tidal Wheel location, Kelly said.
Tidal Wheel will become the latest gym looking to claim a stake in the Richmond niche fitness scene, competing with the likes of kickboxing, boxing, CrossFit, stripper pole and ballet barre businesses. But Kelly isn't worried about the competition.
"Cycling is sort of a tried and true method of exercise. It's been around forever," he said. "It's not going to be a one- or two-year fad."
Correction/clarification: A previous version of this article misspelled Leigh Johnson's first name as Lee. Johnson is part owner of the Shops at 5807 and she also has an ownership stake in the first Richmond Tidal Wheel location. The space Tidal Wheel is taking over was previously occupied by a ballet barre fitness studio.