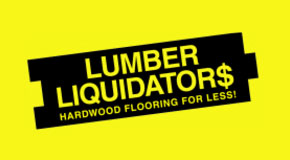 A hardwood flooring giant plans to install a massive new complex in Henrico County.
Lumber Liquidators announced Wednesday it will build a 1-million-square-foot distribution center at White Oak Technology Park in Eastern Henrico. The project is expected to cost between $42 million and $46 million.
It will allow the Toano-based company to consolidate operations from four buildings it currently leases in Hampton Roads, company spokeswoman Ashleigh McDermott said.
"We've been looking at how we can optimize our supply chain for several years," she said. "As we consolidate all those buildings into one facility, that will make things much more efficient."
The Henrico County Economic Development Authority currently owns the land where Lumber Liquidators will build. EDA Executive Director Gary McLaren said the county is selling 80 acres in the park for $60,000 per acre – a total of $4.8 million. The property sits at the northern side of the park, near Elko Road. McLaren said he expects the deal to close in the next month.
Charlie Polk, a broker with Jones Lang LaSalle, represents Lumber Liquidators in the deal.
The company projects a total investment between $42 million and $46 million, including the price of the real estate.
McDermott said proximity to Interstate 95 drew Lumber Liquidators to White Oak, though the company considered other Richmond-area locations.
Lumber Liquidators had discussions with Chesterfield County Economic Development about Meadowville Technology Park, but director Will Davis said the county never presented a formal package to the company.
Cushman & Wakefield | Thalhimer broker Matt Braun said White Oak is competitive because it couples good interstate access with strong infrastructure.
"They have very nice roads, big water lines, sewer, everything is taken care of," he said.
Neither McLaren nor McDermott would speculate on how many jobs the new distribution center will bring. Henrico County's investment in the project will be minimal, McLaren said, though it will reimburse Lumber Liquidators' water and sewer connection fees.
"We really haven't offered incentives to speak of," he said. "They're going to be building a road that will allow us to develop the properties to the east of that site… and we'll be helping them some for the cost of that road."
Though Henrico County EDA owns the White Oak property, all proceeds from the sale will go to the state. An agreement that granted the land to the county in the mid-90s stipulates that all net income on future property sales be returned to the commonwealth.
White Oak Technology Park is a 2,300-acre industrial and manufacturing center about half a mile from the intersection of interstates 295 and 64. It is currently home to a QTS data center and a Bank of America processing center.
Lumber Liquidators has yet to name a contractor or an architect for the job. McDermott said the company plans to break ground in the coming months, with a target completion date in the third quarter of 2014.
Headquartered in Toano, about 40 miles east of Richmond, Lumber Liquidators earlier this year had been shopping for between 30,000 and 45,000 square feet of office space in the Richmond area. Several sources told BizSense that the company looked at space at Innsbrook, downtown and at the Southside's Stony Point Office Park.
The company's corporate headquarters operates out of about 32,000 square feet of space at its a 310,000-square-foot property in Toano. On Wednesday, McDermott told BizSense she had "no update" on any potential corporate relocation to the city.
Lumber Liquidators was founded in Massachusetts in 1994 and went public in 2007. It has more than 1,400 employees and in excess of 300 retail stores around the U.S. that sell wood flooring, other lumber and building supplies.