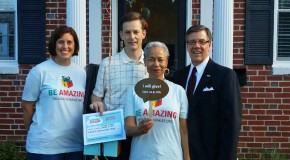 Local nonprofits got an overnight shot in the arm last week.
The third annual Amazing Raise gathered $1.55 million in donations for 470 Richmond area nonprofits. Organized by the Community Foundation Serving Richmond, the event is a fast-paced, 36-hour online fundraising challenge.
A total of 18,106 donations were made through GiveRichmond.org. About two-thirds of those came from individuals, with the other third coming from businesses and foundations, said Kim Russell, vice president of communications for the Community Foundation.
Church Hill Activities and Tutoring (CHAT) brought in the most money, with $73,306 in donations. It received an additional $24,500 in grant prizes from the Community Foundation. CHAT also received the highest number of individual donations.
Placing second in total dollars raised, the Commonwealth Public Broadcasting Corporation (WCVE) brought in $62,123, and received an additional $17,250 in grant prizes. WCVE received the second highest number of donations.
The Colonial Williamsburg Foundation raised $32,840 and received an additional $12,000 in grant prizes. It received the third highest number of donations.
Full Circle Grief Center raised $33,635.
Bon Secours Health Care Foundation, the Virginia State Golf Association and Full Circle Grief Center each received a single donation of $10,000, the highest dollar amount given away with a single click. Bon Secours raised money on behalf of the Cullather Brain Tumor & Quality of Life Center.
The number of donations in this year's Amazing Raise increased by 20 percent and the dollar amount raised increased by 25 percent over last year's event, Russell said.
Participants should begin receiving checks from the Amazing Raise by the end of the month.