A local frozen treat startup has shacked up with a Carytown retailer.
Yu•mi (pronounced "you me") began selling its frozen fruit blends out of a space inside the Carytown Bicycle Co. storefront at 3112 W. Cary St. this summer.
Yu•mi owner Kyra Oliver, who also owns the marketing and design company Oliver Creative, began developing the product, a blend of frozen fruit and a plant-based protein mix served with toppings, with co-owner John Homs in 2010.
They launched the company this spring and started with a kiosk in front of Ellwood Thompson's at 4 N. Thompson St.
Oliver, already familiar with Carytown Bicycle as a customer, said she was looking for a space in Carytown last May to do a pop-up shop when it occurred to her to ask owner Tim Mullins about the unused bar in his store.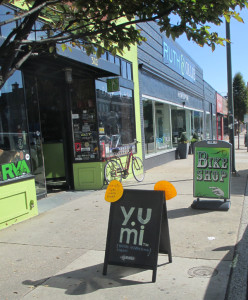 Mullins said he had used the space for events and had always wanted to use it to serve beer, coffee or a health-food product. He is letting Oliver use the space rent-free for a year, after which he and Oliver will decide how to move forward.
"I like having the activity and the energy back there," Mullins said.
Mullins and Oliver both said that sharing the space exposes their businesses to a wider swath of potential customers.
Oliver and Homs have been refining the yu•mi blend since 2010. The development process has included surveys, giving out samples at Ellwood Thompson's and hosting testing days in their homes.
Yu•mi employs six people and also sells Richmond-based Lamplighter Roasting Company coffee. Oliver said she and Homs are developing other specialty products and have plans for storefronts and a food truck. She estimated that launching another storefront would take between $150,000 and $250,000.
"We definitely want to blow it out in Richmond," Oliver said. "Carytown is the path to the bigger vision."