Richmond, VA (Nov. 20, 2013) – The Massey Alliance invites the community to celebrate the holiday season at the Third Annual Richmond Christmas Gala presented by Northwestern Mutual during an evening of celebrating, dancing, and giving back on Saturday, Dec. 14 at the historic Hippodrome Theatre.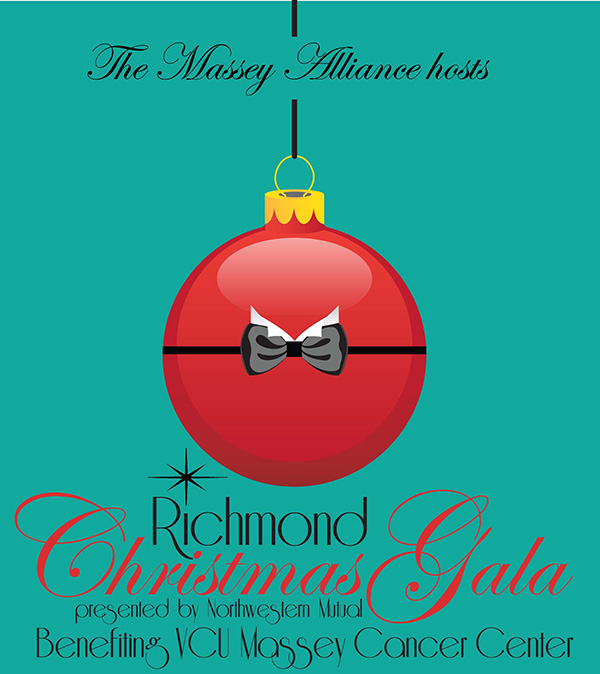 New to this year's event will be pre-event supply drives and a collection of gifts at the event for Massey's palliative care unit. Guests are encouraged to join in the holiday spirit and bring items such as stuffed animals, blankets, socks, hats, gloves and toiletry sets to donate. As in year's past, the black-tie optional event, promises great food catered by Mansion Five26 and live music from Another Level, with all proceeds benefitting cancer research at VCU Massey Cancer Center.
The Richmond Christmas Gala is a signature event of the Massey Alliance, Massey's junior board of young professionals who share a passion for supporting cancer research at Richmond's only NCI-designated cancer center. The Richmond Christmas Gala has enjoyed incredible success by selling out the 2012 event with more than 450 attendees who raised $32,000. This year the committee hopes to raise $40,000.
"The Richmond Christmas Gala is becoming one of Richmond's most anticipated holiday fundraising events. We are thrilled to have Northwestern Mutual on board again as the presenting sponsor, and look forward to returning to the Hippodrome to celebrate the holiday season and benefit the extraordinary cancer research in progress at Massey."
Expected to sell out again, event tickets are available online for $125 and include valet parking. This event is intended for those 21 and older.
Businesses are invited to learn more about sponsorship opportunities for the Richmond Christmas Gala by contacting Lauren Kiger at 804-828-1451 or [email protected].
About Massey Alliance
The Massey Alliance is composed of young professionals with a passion for supporting the efforts of VCU Massey Cancer Center, one of 68 NCI-designated Cancer Centers in the United States. Its members seek to cultivate community awareness of and support for Massey's research, resources, and programs. The volunteer group also provides a unique opportunity for the next generation of philanthropists to learn about cancer research and nonprofit fundraising.