After a streak of expensive deals in the suburbs in recent months, the sale of a Monument Avenue home in February brought the area's richest residential closing back within the city limits.
A three-story home at 2220 Monument Ave. sold for $1.4 million last month, making it the highest-priced home sale in the Richmond area in February, according to Central Virginia Regional Multiple Listing Service.
The house was built in 1908 for Harry S. Binswanger, a member of a prominent Richmond family known for its successful glass business, said Long & Foster Realtor Jolanda Knezevich, who listed the property.
"Back then, they were the family to know," Knezevich said.
The house, designed by architect Claude K. Howell, still displays many of its original features, including the ornate stained and leaded glass windows you'd expect of a glassmaker.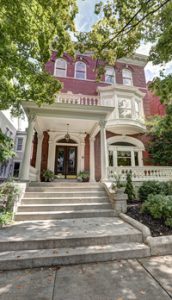 "The remarkable part of it was a lot of details were preserved and are still there," Knezevich said. "It really puts it up on another level."
The six-bedroom, 7,760-square-foot house was listed in June for $1.52 million. It sits on less than an acre, according to city records, and was most recently assessed at $1.18 million.
Among the house's 5.5 bathrooms are spacious "his and hers" marble bathrooms in the owners' suite which were renovated by the sellers John and Barbara Herzog.
Knezevich said her clients decided to downsize now that their kids have left the nest.
A family from New Jersey bought the house. Lori Evangel had a specific request for the house hunt, said Betty Wright, a Realtor with Sycamore Realty who represented the family.
"She said, 'I'm moving to Virginia and I want to have a house that shows off the history of the South because I've never lived in the South,'" Wright said.
According to CVRMLS, 556 homes were sold in February in Chesterfield, Henrico and Hanover counties and the city of Richmond. That was down from the 629 homes sold in February 2013.
Of the 556 houses sold in the area last month, 58 went for $400,001 and up.