A local nonprofit has plunged into the development business.
Hanover Habitat for Humanity is building a new subdivision in Ashland in a slight departure from the organization's typically smaller projects.
"Habitat traditionally has built a house here, a house there," Executive Director Tim Bowring said. "What we wanted to do was build a neighborhood."
The nine-home neighborhood, called Bailey Woods, is located off Ashcake Road in Ashland. Habitat is building seven new homes and renovating an existing home on the five-acre property. Local builder HHHunt is constructing the ninth house in a 30-day building blitz.
Builders, subcontractors and a bounty of volunteers have begun work on the development's first homes.
"It kind of reminds me of a barn raising on steroids," Bowring said.
Habitat put together a $1.5 million budget for Bailey Woods and has raised all of the money, Bowring said. It used a federal grant of $500,000 for site work such as installing water and sewer service and roads.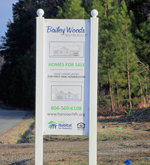 It will sell the houses for about $155,000 each to nine future homeowners, Bowring said. The homes come with a low or potentially a 0 percent interest mortgage, according to certain Habitat requirements.
Habitat hopes to complete the new community by March 2015. Bowring said it typically takes Habitat volunteers three or four months to build a house. That's about as long as it would take professionals working at an average pace, he said.
With its 30-day plan, HHHunt will be working at a slightly faster pace.
"We take each stage and we try to compact it into one day," said HHHunt General Manager Pat McCarthy. "We want something that's really going to get people excited."
HHHunt employees have volunteered to assist subcontractors during the build. Many of the subcontractors are donating labor or supplies, McCarthy said. HHHunt has budgeted $50,000 to cover the rest of the construction costs on its house at the site.
The company got involved when Ashley Timberlake, a former employee who now works at Habitat, called to see if they'd help with Bailey Woods.
The house HHHunt is building has one story, four bedrooms and a big front porch. It will soon be home to a single, working mother of eight children, three of whom still live at home.
The other houses are also spoken for, Bowring said. One will go to a law-enforcement officer who currently lives in his parents' house with his wife and their child.
Another will go to a family who came to America in search of a better life. The husband and wife are currently working two jobs each to support their children while the husband works to improve his English so he can resume his career as an engineer.
"You have these folks who are working really, really hard and doing the best they can," Bowring said. "…And none of the banks will touch them."
Habitat homebuyers have to meet certain income requirements to show that they need the support but can still afford to make their mortgage payments, Bowring said.
That could mean a family with four kids who brings with an annual income of $60,000 a year or a family with two children that earns $48,000 a year.
Hanover Habitat for Humanity's most recent financial report from 2012 listed revenue of about $1.299 million, expenses of about $1.141 million and net assets of $1.17 million, according to Guidestar.org.