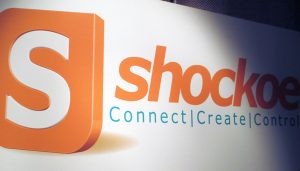 With its latest growth spurt, a local tech company has doubled the size of its office and moved closer to its namesake section of town.
Shockoe Mobile Applications Development this month signed a three-year lease for 2,550 square feet at 1705 E. Main St., just a few blocks west of Shockoe Slip. The new office is an expansion for the company as it moves out of a 1,100-square-foot space at 110 E. Cary St., where it's been since spring of last year.
Much like its name suggests, Shockoe creates applications and helps companies translate their ideas to mobile platforms. Its work includes an employee-training app for T-Mobile and an app for Homes.com that lets users search rental listings.
CEO Edwin Huertas said Shockoe's services typically cost from $30,000 to $300,000. The company has 20 employees split between its North and South American offices – and that's 50 percent more than what it had a year ago.
Huertas, 35, said consumers see only about 10 percent of Shockoe's work. The rest is used internally by big companies like T-Mobile, Homes.com and ReMax. As the company grows, it hopes pick up more clients in the Richmond area. It's already scored jobs with Virginia Commonwealth University, University of Richmond and VDOT.
When Heurtas launched the company in 2008, its emphasis was on websites. But soon "there's an app for that" became a ubiquitous phrase as the conversation about technology was shifting to mobile applications. Huertas eventually saw the need to change with the times.
"2010 turned out to be the year where people would go into mobile," Huertas said. "We said, 'How do we create a business out of that new technology?'"
Today, Shockoe is keeping its eye on the burgeoning "Internet of Things," as a potential new avenue for growth. The category covers everyday objects that increasingly are being connected to the Internet, such as "wearables" like Google Glass and wristbands that track athletes' heart rates, and home appliances and thermostats that can be controlled with a smartphone.
"Everything is trying to be connected to the network, like lights and dishwashers," Huertas said.
Huertas said that as the market around the Internet of Things grows he'll look to show businesses how to use these new technologies to attract customers and better manage their businesses. It's what Shockoe does now, only with an older technology.
"It's still early," Huertas said of that market. What happens next will be "based on the demand and the awareness and how people are using it."