In a career change that will take him out of professional sports for the first time in nearly two decades, Bill Papierniak is making a big trade: a baseball franchise for a retail franchise.
Papierniak is stepping down as general manager of the Richmond Flying Squirrels to take over the Cartridge World printer ink and toner store in Innsbrook.
Papierniak (pap-peer-NEE'-ack) has spent 17 years in minor league baseball, the last five of which have been at the helm of the Flying Squirrels.
He said his new job will allow him a more manageable schedule and more time at home with his family and his three children, ages 4, 8 and 11.
"I've been fortunate to live a dream for over 17 years," he said. "And with three kids, now is the right time for me to be able to sit back, spend more time with them and let them live their dreams.
"That was not an easy decision, but the one thing I kept coming back to was I didn't want my kids to say, 'My dad's the one with the cool job,'" he said. "I wanted my kids to say, 'My dad's the one that's right there watching me do this.'"
Papierniak bought the Cartridge World franchise on Feb. 23 after a broker who worked with his wife alerted him to the opportunity. He'll be taking over for Charles and Jill Gayle, who started the Innsbrook location at 4120 Cox Road in 2004.
If the switch from sports to printer cartridges seems drastic, Papierniak, 42, said the two businesses do share some similarities.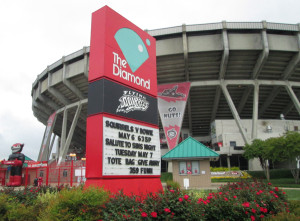 "There's a retail presence, and at the same time, it's a little more business-to-business-focused, which kind of allows me to utilize some of my contacts in the community and hopefully hit the ground running.
"There wasn't a connection to cartridges. There wasn't a 'how I loved ink' or anything like that," he said. "It was just more looking at the business as a whole, thinking I could utilize some of my skill set to grow it. And at the same time, it was a really well-run business."
Jill Gayle wouldn't reveal her and her husband's plans for the future but said they will be doing something different after relinquishing the store.
Papierniak plans to stay on with the Squirrels until Opening Day, April 9. The occasion will mark an end to five years of developing the franchise from the ground up.
"We came in wanting to put together our brand of entertainment that would impact the community in a positive way," he said. "That has been our focus since the beginning. And then to have that reciprocated from the community has been tremendous – it was tremendous for me –and it's something I will certainly never forget."
Papierniak's role as general manager will be filled by Todd "Parney" Parnell, the Squirrels' chief operations officer and vice president. In a statement, Parnell praised Papierniak's contributions to the team.
"Bill has been a driving force behind this franchise since day one," Parnell said. "As we transition into a new era, he will be missed and we wish him and his family all the best in their new endeavor. We thank him for his years of hard work and dedication, and his mark will always be on this franchise."
In a release, the Squirrels credit Papierniak with helping to build the franchise in less than a year and leading the team toward minor league merchandising records, an Eastern League attendance title and multiple awards recognizing impacts on the community. In 2012, the franchise placed second in the Eastern League for overall attendance, and in 2013, was ranked second in average attendance.
Papierniak also represented the team on minor league baseball's licensing committee, helping to shape its overall direction.
Prior to Richmond, Papierniak spent six seasons as general manager of the Daytona Cubs, at the time an affiliate of the Chicago Cubs. The Flying Squirrels are a Double-A affiliate of the San Francisco Giants.
While his days at The Diamond are coming to an end, Papierniak said he looks forward to following the Squirrels as a spectator.
"I haven't been able to go to a game truly as a fan, without looking at things through a different set of glasses, in a long, long time. So that'll be exciting for me," he said. "It'll be fun to come as a fan."