Burford Advertising has picked up several new clients for 2015. The firm will conduct a pilot branding and awareness campaign for Virginia Victims Fund (also known as the Criminal Injuries Compensation Fund) to inform consumers in Central and Southwest Virginia that the fund exists to help defray expenses incurred by innocent victims of a crime. Components of the multifaceted campaign include a new branding name, a new logo, television ads and public relations efforts.
For Virginia Health Insurance Exchange, Burford has acquired a unique URL, getcoverednow.net, and created testimonial television ads for the Richmond market to help consumers navigate health care options and enrollment dates. Burford is reigniting its longstanding partnership with Haynes Furniture and The Dump to develop and manage creative services for both furniture retailers. And for Haley Automotive, Burford is developing an interactive awareness campaign and contest that began airing in late January.
Spurrier Media Group has been engaged by RMA of Philadelphia, RMA at Jefferson and RMA of Central Pennsylvania at Pinnacle Health – a group of fertility clinics in Pennsylvania – to direct and manage their media strategy and awareness campaigns. SMG will be collaborating with Philadelphia health care agency HLG Health Communications.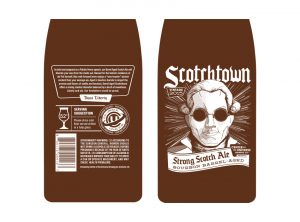 Big River Advertising designed a label for Center of the Universe Brewing Co.'s "Bourbon Barrel-Aged Scotchtown." The seasonal brew will be distributed throughout the Richmond market and as far as Virginia Beach.
The King Agency has picked up Parrish Ford as its newest local advertising account. The Goochland-based car dealership tapped TKA to position its brand through a campaign that includes TV and digital work and a revision of its logo. The campaign is slated to launch this spring.
TKA also received two awards in the local chapter of the 2015 American Advertising Awards. The agency received Silver Awards for two 30-second TV spots it produced for Martha Jefferson Hospital in Charlottesville. The spots were titled "Little Problems – Man" and "Little Problems – Woman."
TKA's winning work will advance to one of 15 district competitions to compete against winners from other clubs in the region.
Circle S studio has been named agency of record for TowneBank Richmond to provide strategic marketing, creative and public relations services. The bank recently acquired Franklin Federal Savings Bank, one of the oldest community-based financial institutions in the Richmond area. Spurrier Media Group will manage media planning, buying and placement services.
Neathawk Dubuque & Packett (ND&P) was recently recognized for "Best Quarterly Report" by the Virginia Department of Health's HIV Prevention Services unit. The firm was lauded for its use of analytics and illustrative graphics and charts at a recent department meeting. ND&P won the assignment last year to promote "Testing Makes Us Stronger," the department's statewide HIV education initiative.
ND&P also created a new commercial for MidMichigan Health, a nonprofit health system affiliated with the University of Michigan Health System. The commercial is an animated 30-second television spot advising viewers to avoid incorrect information from "Dr. Internet."
In addition to television, the campaign includes radio spots, online ads, social media promotion, outdoor advertising and newspaper and magazine ads.
Free Agents Marketing received national recognition by the Service Industry Advertising Awards for its work for its client, Bon Secours. The firm received four Gold SIA Awards for its men's health campaign, men's health TV series, Movin' Mania TV spot and ClassARoll PR campaign.
Madison+Main released several online videos, including Village Bank's "Call Banks" TV spot. The firm also launched an interactive website for Yard Works, a natural resource products manufacturer and distributor, and completed branding work for YOVASO's (Youth of Virginia Speak Out) 2015 summer retreat.