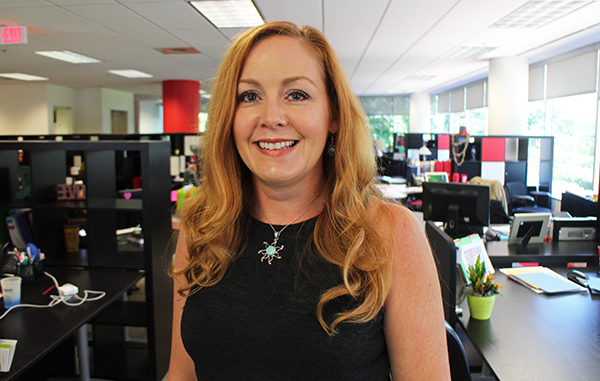 Laura Wagner's job title could be taken two ways.
As creative director for Free Agents Marketing, she oversees the creative output of the Innsbrook-based firm – from an outreach campaign for a local community bank, to a social media contest for Bon Secours' involvement in the Washington Redskins' training camp, currently underway.
But when she started with FAM in 2008, she also led the creation of what is now the agency's creative department, recruiting former colleagues from her days at Circuit City and Sears Tire Group and building what is now an in-house staff of 10 – nearly one-fifth of FAM's full-time workforce.
That previous work in the corporate world, leading or assisting those companies' own creative departments, gave Wagner a perspective that she said helps in relating to her clients.
"It's nice to be able to say to a client, 'I've been in your shoes. I understand,'" she said.
Wagner sat down with Richmond BizSense to discuss that perspective, her creative approach and what led to the Redskins "Fandemonium" campaign, in which fans are encouraged to share their pre-game rituals and game faces for a chance to win prizes. Below is an edited transcript:
Richmond BizSense: How did "Fandemonium" develop as a concept?
Laura Wagner: It was Year 2 (of the training camp, sponsored by Bon Secours Richmond Health System), and we looked back and said, 'What made Year 1 so successful?' And fans came to mind. Everyone talked about attendance and all – that's what made it. So we wanted to pay tribute to that, but also we wanted to really keep Richmond part of this.
In that initial project, we launched a website, but where we saw the most activity was in the social (media) space. So we thought we should wrap this idea around social, and the idea of a contest came about.
We talked about what it's like to be a fan – people get a little crazy with their rituals and what they do. We really wanted to create something fun for folks to kind of show off who they were and who the faces of fans in Richmond were.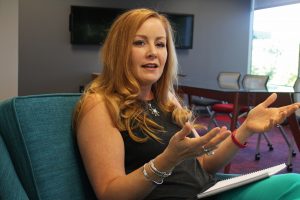 When we really thought about the creative, we were like, 'Let's make sure we have the suburban dad who's got to tow his two kids with him to training camp. There's that whole hipster aspect and the downtown scene; that's where the barbershop idea came from: let's make him such a fan he's getting the number 10 shaved into his head.
And then there's that whole other side of the person who you would never have guessed was a fan. That's where the young lady came in: let's make her all prim and proper, her room's all pink and full of fluffy, and then when it's time for game time, she's throwing chairs around the room and so forth. We just thought we needed an element of humor. And we had to include Bon Secours, the client (represented by the doctor).
RBS: Speaking of branding, the Redskins are obviously going through a controversy with their name. Did that come up in your conversations or approaches to the campaign? Do you try to downplay the name in a commercial, for example?
LW: It's not something that's come into our process. There's been no edict or 'Don't do this,' so we haven't really experienced anything like that in the process.
For us, we really had to lean on Bon Secours and their position, because they're our client. So we look to them for the lead of what and when to say. We definitely were very aware of the sensitivity of what's going on, so we took our direction from our client: How do you want us to handle this; are you comfortable with this?
RBS: Describe your creative approach. Is there a checklist you go through or a place you go to mentally to come up with something new or different for a client?
LW: I start with a blank page, and we start to ideate. A lot of times our ideation is that talking together and we just write stuff on the wall. 'There's nothing bad; there's nothing wrong or right.' We've written all over all four walls, and you start to connect dots. Something someone has said over there has now connected to something we've looked at here. We just kind of keep talking through until you get to that excitement point.
RBS: Do you have a favorite campaign that you've done?
LW: Oh, that's tough. I really love a recent campaign that we worked on. It's with a small community bank, EVB, and what I liked about it is it evolved from a pitch.
They came to us and said, 'We're really trying to push our products and services with small businesses, and we'd like you to use these parameters to come back to us with your pitch.' So we came back to them thinking about who they were, we did some research, and we came up with this idea of 'Big believers in small business.'
The spots came out really well. It was a challenge. This wasn't one of the biggest budgets that you could have. Oftentimes we find we have to be really creative with less. That's why stills played a role in that spot, as opposed to film. We're always looking for ways to be creative with budgets. Just because they're a small community bank doesn't mean they couldn't look like a very polished company.
RBS: Have you ever had a campaign that just didn't come together?
LW: There have definitely been campaigns that we felt really strongly about that the client said yes to and then we started and then they got cold feet. A client we had, an automotive group – they had been dark for a really long time, they had a new name. So the first thing they needed was an identity.
We came up with this concept that we pitched for them that they went for. We were so proud of that spot, and they really loved it. But they ran it for a while, and then they got scared, from what I can gather. They were honest with us, and we had to readjust with them. But as a creative, you're like, 'I'm so attached to this!' But that happens with the best of them.
RBS: How do you keep yourself open to being willing to let go of what you think is a good idea?
LW: We always fight for it. But at the end of the day, they're the client, and we really want to put them in a comfort space. And there's always another idea. I never want to get so attached to something that we can't keep our minds open to what might be next. Sure, you can love something, but we're not tapped out.