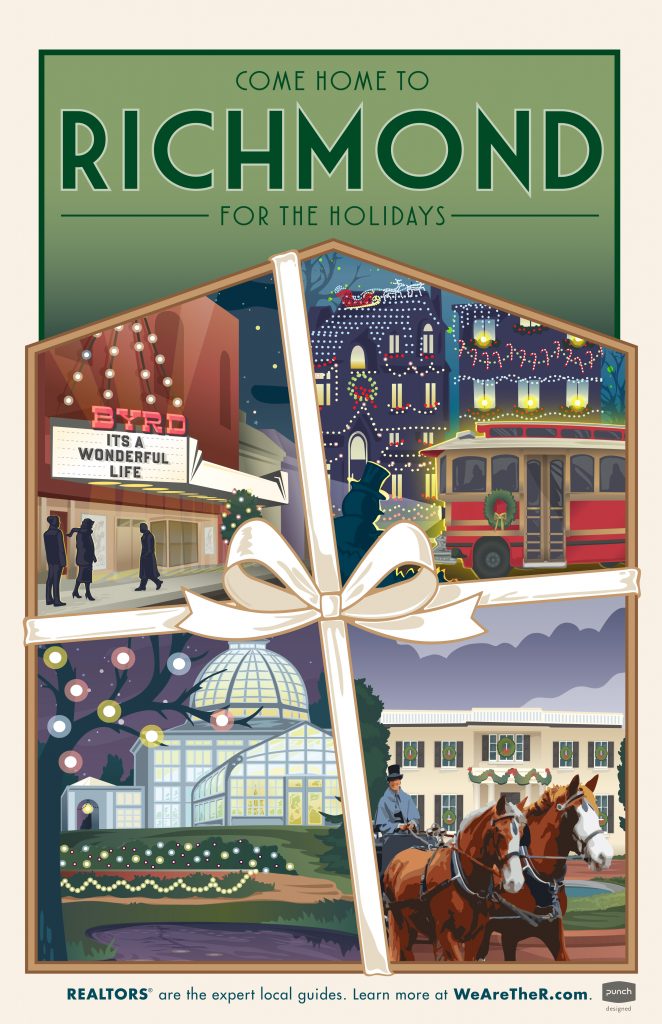 A local real estate group is spreading some holiday cheer to kick off its latest marketing campaign.
The Richmond Association of Realtors has unveiled the first in a series of nine posters to be released through next year to promote its members in its recurring "We Are the R" campaign.
The posters, which were designed by local creative agency Punch, will highlight Richmond landmarks, events and icons to promote Realtors as local guides and experts in Richmond-area real estate.
The first poster, released this month, features holiday-themed images of four local locations or traditions: the Byrd Theatre, the Tacky Lights Tour, the Valentine Museum, and Gardenfest of Lights at Lewis Ginter Botanical Garden.
Kate Landis, marketing and public relations manager for RAR, conceptualized the campaign with colleague Kelsey Croston, who maintains a website specific to the campaign and is overseeing social media outreach.
In addition to promoting Realtors as homebuyers' guides to Richmond, Landis said a goal of the campaign is to differentiate Realtors from other real estate agents who are not association members.
"The average person, when they hear Realtor, they think 'real estate agent.' But not all real estate agents are Realtors," Landis said.
One difference, she said, is a code of ethics that Realtors subscribe to when they join the association, which provides services and support in return.
Landis developed the poster campaign with Punch, which had previously worked with RAR on designing its real estate magazine, "Listed." Landis declined to disclose the budget for the campaign or the amount Punch will be paid for the design work.
Punch designer Kevin Shell said the posters were inspired by travel posters popular in the mid-20th century.
"We went with a style of the flat art travel posters from around the '40s and '50s," Shell said. "That's where we started, but we wanted to give it a modern twist – give it a nod to the history of Richmond but the modern side of Richmond, as well."
Account manager Rachael Bernstein said the campaign's local flavor appealed to the agency. While the first poster features four images, future posters, to be released throughout 2016, will highlight one image individually, she said.
The posters can be copied and downloaded for free at WeAreTheR.com. Posters can also be purchased at RAR's headquarters at 8975 Three Chopt Road in Henrico: $6 for an 11-by-17-inch poster; $8 for a 24-by-36.