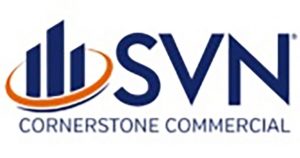 A startup commercial real estate firm in Richmond has bought into a national franchise in a bid to grow its book of business, while a more established local player has expanded its offerings.
SVN | Cornerstone Commercial made its debut this month. The brokerage had previously gone by Cornerstone Commercial but last month bought into the SVN brand.
Kevin Gray and William Raymond co-own Cornerstone, which launched in 2013 and is based at 593 Southlake Boulevard just off Midlothian Turnpike.
Gray said the decision to rebrand was fueled by their desire to better compete with other commercial real estate firms that have ties to national brands. It's common practice for local brokerages to buy into national brands. In Richmond, for example, Thalhimer waves the Cushman & Wakefield flag and Eagle buys into the NAI system.
"Instead of being a boutique, we wanted to play with the big boys," Gray said, adding the company has been growing. "We've tripled our income from year one."
SVN | Cornerstone Commercial has seven agents and is looking to grow to at least 20, Gray said. It offers landlord and tenant representation and property management mostly in the Richmond area, but will go as far west as Lynchburg, as far south as North Carolina, as far north as Fredericksburg and hopes to eventually grow to Virginia Beach.
Gray said he and Raymond were attracted to SVN's back-of-the-house services and in-house training for agents. He would not say what it cost to buy into the franchise.
"We were driving a Jetta. Coming on board with SVN was like being handed the keys to a Ferrari," Gray said.
SVN | Cornerstone Commercial is the sixth SVN franchise in Virginia and the second in Richmond, Gray said. The other local franchisee is SVN | Motleys.
Another of the bigger brokerages in town, CBRE | Richmond, announced this month it is expanding its offerings of its building services division to include properties that are not managed by CBRE. Previously, the division, which provides preventative maintenance, electrical, plumbing and other services, only did that work for real estate that CBRE managed.
Richmond broker Jessica Butterworth, along with John Thomas in Hampton, has been tasked with leading CBRE's expansion of building services.
"It gives us another product that we can supply," Butterworth said. "We saw it as a hole in the market that we could fill."