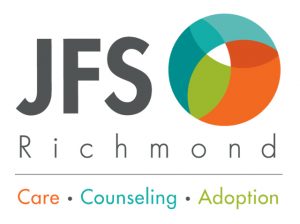 JFS Richmond partnered with Evergib on a rebranding and phased marketing plan that covered development of a new brand positioning, logo, visual identity system, messaging, website and marketing materials. The rebrand identifies JFS, also known as Jewish Family Services, as one of the city's longest-running nonprofit resources for care, counseling and adoption.
JFS Richmond was chosen as the official name, and the revamped logo features the name in a modern type with the organization's three programs represented as colors. New messaging was created with the tagline, "Transforming lives, strengthening our community." The new look and messaging carries over into marketing materials and a responsive website featuring a simplified user interface and streamlined navigation.
Barber Martin Agency released a campaign for 20-year client Adolf Jewelers as part of the jeweler's 55th anniversary. The yearlong "Do It" campaign, which highlights trends showing that millennials would rather spend money on experiences than diamonds, encourages audiences to "do it," meaning "propose," at various locations around Richmond.
The first few ads include a "Do It On The Rocks" billboard that shows the James River, a "Do It In A Gallery" print ad that shows the Virginia Museum of Fine Arts, and a "Do It Your Way" print ad running in the Virginia Pride Guide. The campaign involves local print, online and broadcast mediums and will continue in 2017 with new "Do It" themes.
Free Agents Marketing developed and launched websites for two clients. Richmond Corrugated Box's website was redesigned to better reflect the company's brand and capabilities in custom packaging and box solutions. Lancaster Foods' site was redesigned to more closely connect to parent company Guest Services' brand and the freshly cut produce Lancaster delivers to customers.
The Idea Center launched new websites for two local nonprofits: Families Are Magic, a program of Greater Richmond SCAN, and homelessness services provider CARITAS. President and creative director Barry Martin was interviewed during the Iconic Conference in Boston and featured on a CNBC segment about company culture.
Think has been retained by Manakin Farms to provide strategic branding and positioning for Monterio Estates, a new residential development in Shady Hook. The project will include market research, competitive analysis, brand development, a new website, signage and supporting marketing materials. The agency is also providing creative and presentation services to Loftis Group LLC, an accounting firm based in Albuquerque, New Mexico, that focuses on Native American tribal government projects and nonprofits.
Randall Branding has hired Katelyn Stutterheim as an account manager. The Richmond newcomer serves on the board of the Advertising Club of Richmond and will be working with clients in the outdoors industries. Randall is also conducting research for Proxios IT Solutions to uncover brand recognition methods within the business community.
Torx was awarded a website redesign project for RainMaker Studios and launched a new paid search and display marketing effort with Princeton Windrows, an upscale independent living community in Princeton, New Jersey. Torx also created and launched the internal Safety Tools website for Comfort Systems USA, as well as a new website for Virginia Harp Center.