A Norfolk-based commercial brokerage with ties to Richmond has purchased the bulk of a Kroger-anchored shopping center in Midlothian.
S.L. Nusbaum Realty Co. is the new owner of the Shoppes at Bellgrade, a 57,000-square-foot strip at 11400 W. Huguenot Road. Tom Johnson, senior vice president of S.L. Nusbaum, confirmed the deal, which closed for $10.9 million on Nov. 1.
The deal did not include the 83,000-square-foot Kroger store, owned by the grocery giant, nor did it include Bellgrade's four outparcels occupied by Wells Fargo, a Shell gas station and other tenants.
Prior to purchasing the Shoppes at Bellgrade, S.L. Nusbaum handled leasing for the center's owners – a development team headed by Richmond businessman Doug Woolfolk.
The firm placed the retail center under contract late this summer, Johnson said, taking about three months to close the deal.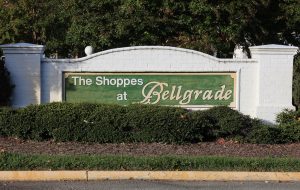 The final price is roughly $3.9 million more than its assessed value, according to county tax records.
Shoppes at Bellgrade is located at the intersection of Huguenot and Robious roads, and serves as the primary retail destination for residents of the Bellgrade neighborhood – a high-end residential community comprising mostly single-family homes that has recently been surrounded by a bevy of multifamily and senior living dwellings.
Anchors of the shopping center include Kroger, Pet Supplies Plus and Ruth's Chris Steakhouse.
The retail center, which includes the main strip and four outparcels fronting Huguenot Road, is 100 percent leased, Johnson said.
Kroger is working to add a new gas station to the Shoppes at Bellgrade pending county approval, Johnson said. The center is also poised for a facelift over the coming months, with many of its existing tenants staying put, Johnson said.
"It's one of the nicest shopping centers in the area," Johnson said. "The area is in a good position for healthy growth…and the fact that 100 percent of the center is leased speaks volumes about the location."
S.L. Nusbaum is no stranger to the area. The firm owns and operates the Huguenot Village Shopping Center at 2001-2065 Huguenot Road – a 94,000-square-foot retail center across Robious Road from the Shoppes at Bellgrade.
"We own a number of shopping centers in the area, and have developed a number of retail centers with the Ukrops," Johnson said. "We purchase shopping centers and apartment communities…and are always looking for the right investment for our portfolio."