Richmond, Virginia – The 2018 Southern Trial Lawyers Association's highest honor, the War Horse Award, was presented to W. Coleman Allen, Jr. of Allen, Allen, Allen & Allen in recognition of his career dedicated to protecting the rights of the injured.
War Horse Award honorees are nominated by Southern Trial Lawyers Association (STLA) members in recognition of extraordinary contributions to the cause of Justice. Acknowledged leaders in their communities and in active practice for more than thirty years, the honorees have demonstrated outstanding skill as trial advocates and have shown exceptional commitment to furthering the cause of justice.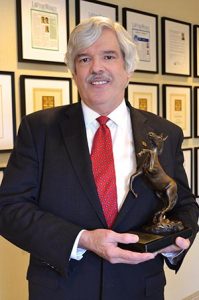 Coleman's honor is especially significant to the Allen Law Firm as it marks the second War Horse Award granted to an attorney in that practice. George E. Allen, Jr., uncle of Coleman Allen, was one of the first recipients of the award in 1990. A solid bronze casting designed by renowned wildlife artist Pierre Pierce depicting a reared stallion symbolizes the remarkable careers of these War Horses of the South. The bronze presented to George E. Allen, Jr., remains on display in the lobby of the Richmond, Virginia headquarters of Allen, Allen, Allen & Allen.
A partner and trial attorney at the Allen Law Firm since 1980, Coleman exemplifies the professionalism and high ethical standards synonymous with his family name. Special recognition he has achieved for his dedication to quality includes receiving the Patrick Henry Award for steadfast devotion to the just and sound government of the Commonwealth, naming by the Chief Justice of the Supreme Court of Virginia to the mandatory professional ethics program faculty, and receiving The Professor W. McKinley Smiley, Jr. Lighthouse Award recognizing him as an outstanding lawyer in the field of academics, legal scholarship, and advocacy teaching and training.
Coleman received the 2018 STLA War Horse Award at the War Horse Banquet held in his honor on February 8, 2018, in New Orleans.
About the Allen Law Firm: Established in 1910, Allen, Allen, Allen & Allen is one of Virginia's oldest and largest personal injury law firms. Identified by their compassionate approach to helping clients and for the record-setting verdicts they've achieved, Allen & Allen is also known for their service to the community through volunteer and sponsorship efforts, scholarship awards, and their popular Hometown Heroes and Sober Ride Home Programs. They have eight locations in Virginia.
CONTACT: Karen Hester, Marketing Director
PHONE: (800)768-2222
EMAIL: [email protected]