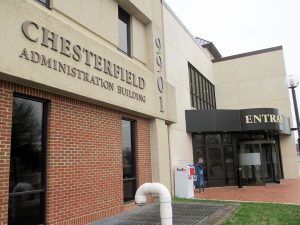 Chesterfield
The county's public safety and general services departments are working with Roanoke-based Growth Through Opportunity to provide adults who have autism, Down syndrome, cerebral palsy and other challenges opportunities to gain job skills and social experience by participating in a 16-week cadet academy.
The GTO program has selected six cadets in concert with the Virginia Department for Aging and Rehabilitation Services from within Chesterfield. A kickoff event is planned for the inaugural GTO cadet academy Tuesday at 9 a.m. at the Chesterfield Juvenile and Domestic Relations District Court conference room, 7000 Lucy Corr Blvd.
The audit and finance committee meets Friday at 10:30 a.m. in Room 502 at the Lane B. Ramsey Administration Building, 9901 Lori Road.
Goochland
Supervisors meet in regular session Tuesday. New business includes a presentation of the county's annual report. Full agenda here.
The planning commission meets Thursday. Business includes public hearings on two ordinance amendments to regulate public assembly uses in industrial parks and to codify an approved plan of development is valid for five years. Click here for the full agenda.
Henrico
County Manager John Vithoulkas will deliver Henrico's annual State of the County address Friday from 7 to 9 a.m. at The Westin Richmond at 6631 W. Broad St. The breakfast event is sponsored by the Henrico County Economic Development Authority.
Richmond
The planning commission meets Monday at 1:30 p.m. Business on the consent agenda includes a request by Alford Development LLC to rezone properties at 710 and 712 West Fells St., 1705 and 1705½ Chamberlayne Ave., and a portion of 1707 Chamberlayne Ave. for multifamily residential development. Full agenda here.
The organizational development standing committee meets Monday at 5 p.m. Business includes consideration of an ordinance to create an advisory commission for the Navy Hill development proposed by NH District Corp.
The urban design committee meets Thursday. Business includes final reviews of Main Street Station site improvements, 17th Street Farmers Market electrical enclosures and a Richmond Slave Trail renovation at 1500 Brander St. Full agenda here.