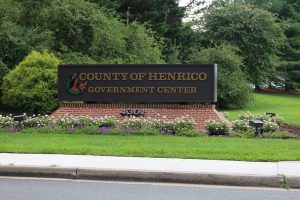 Chesterfield
Supervisors will receive the proposed budget for fiscal year 2020 at a work session from noon to 5 p.m. Wednesday.
The board meets in regular session at 6 p.m. Business includes a presentation and vote on a $121 million project to secure a proposed fourth water source along the tidal Appomattox River. The project, which was presented to the board at its latest meeting, would be the first phase in a longer-term effort and would take 10-15 years to complete. The water source is projected to supply as much as 80 million gallons per day and meet the county's water needs for an additional 100 years.
Public hearing items include a request from Liv Development to rezone 0.2 acre of a 9.3-acre tract southeast of Otterdale Road and Village Square Parkway from multifamily residential to community business use. Full agenda here.
The planning commission meets at 6 p.m. March 19. GEM Capital LLC and Bethany Baptist Church are seeking a rezoning and conditional use planned development designation to allow for residential development on 24 acres east of South Providence Road north of Shadymist Drive. Full agenda here.
Goochland
Supervisors meet at 3 p.m. Tuesday. Business includes presentation and discussion of the county's proposed 2020-2044 Capital Improvement Plan. Agenda here.
Hanover
Supervisors meet at 3 p.m. Wednesday. Business includes a closed session on topics relating to acquisition of real property for road projects, discussion of an unannounced business or industry, legal consultation on probable litigation relating to the opioid epidemic, and recruitment of a county attorney. Agenda here.
Henrico
Supervisors meet in regular session at 7 p.m. Tuesday. Business includes a presentation of the proposed county budget for fiscal year 2020. CA Senior Living Holdings is requesting a rezoning and provisional use permit to allow a life care facility on 5.6 acres on the east side of Parham Road at its intersection with Derbyshire Road.
Also on the agenda, the City of Richmond seeks approvals for a redevelopment of 6 acres at 1900 Cool Lane and 2011 Mechanicsville Turnpike, the site of the former Seven Hills Nursing Home, where Virginia Supportive Housing is proposing a 105-unit, income-based housing complex. Full agenda here.
The planning commission meets at 7 p.m. Thursday. The McGurn Co. seeks to rezone 4.3 acres at the northeast intersection of Hungary and Hungary Spring roads for a single-family residential development. A request from Hunt Club LLC to rezone 19 acres on the south side of Bremner Boulevard east of Beth Road to allow a continuing care retirement community is being deferred to April 11. Full agenda here.
Richmond
Mayor Levar Stoney presented his proposed amendments to the biennial budget that runs through fiscal year 2020. The proposals include increasing the real estate tax rate from $1.20 to $1.29 per $100 of assessed valuation, and the addition of a cigarette tax of 50 cents per pack. The full proposal can be viewed here. Stoney's remarks to City Council can be viewed here.
Council meets at 6 p.m. Monday. A request from Loughridge & Co. for a special-use permit for its planned 224-unit apartment complex at 2009 Brook Road is being deferred for a fifth time.