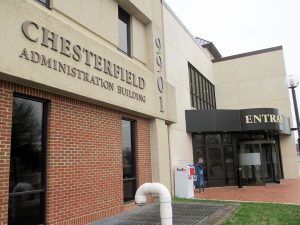 Chesterfield
The planning commission meets Tuesday at 6 p.m. An entity tied to Florida-based Rialto Capital Management requests a zoning amendment relative to dwelling types and cash proffers for Wynwood at Foxcreek. Justin Farrish requests a conditional-use permit to allow a special events business on 70 acres at 15740-15760 River Road, while Thomas Gordon requests a similar permit for the same type of use on 193 acres at 11825 and 11835 Ivey Mill Road.
The commission will also consider code amendments relating to use definitions and restrictions for solar energy facilities and residential fences and walls. Full agenda here.
Supervisors meet April 24 at 6 p.m. Public hearing items include a planned Chick-fil-A at 2900 West Hundred Road and a Texas Roadhouse at 13439 Hull Street Road. GEM Captial LLC and Bethany Place Baptist Church seek to rezone a 24-acre tract along South Providence Road north of Shadymist Drive from agriculture to residential for a project known as Bethany Creek.
Goochland
Supervisors meet Tuesday at 3 p.m. Business includes adoption of the proposed budget and related ordinances for fiscal year 2020. William Massey III requests a rezoning for 3 acres at 12594 and 12608 Patterson Ave. to allow retail uses. John Brockenbrough requests a conditional-use permit to operate a distillery on 7 acres at 2750 Maidens Loop. Full agenda here.
The economic development authority meets Wednesday at 5:30 p.m. Business includes a performance agreement for a hotel by Nick Patel of Kalyan Hospitality on 3 acres along Wilkes Ridge Circle. Full agenda here.
Hanover
The planning commission meets Thursday at 6:30 p.m. Business includes a public hearing on a previously deferred request from Riverstone Properties to rezone 113 acres near Interstate 295 and Pole Green Road for commercial and light industrial uses including the planned relocation of the Virginia Department of Alcoholic Beverage Control headquarters. Agenda here.
Richmond
The planning commission meets Monday at 1:30 p.m. Business includes a request from an entity tied to Daniel & Co. to build 18 townhomes on about a half-acre at West Cary Street and South Shields Avenue. A request from Larson Development to rezone an industrial property at 1206 Dinwiddie Ave. to mixed-use business district is being deferred to July 15. Full agenda here.
City Council's land use, housing and transportation standing committee meets Tuesday at 1 p.m. Business on the agenda includes agreements with VDOT for various traffic projects, including installation of traffic signals at Cary Street Road and Libbie Avenue, Cumberland Street and South Laurel Street, Grove Avenue and Maple Avenue, and Warwick Road and Clarkson Road. Agenda here.
The economic development authority board meets Thursday at 4 p.m. at Main Street Station.