Email submissions to [email protected].
Departure
Michael Herring, Richmond's Commonwealth's Attorney, is resigning, effective July1. He will become a partner at McGuireWoods. Colette W. McEachin will act as interim Commonwealth's Attorney, until a replacement is elected.
Law
Jessica Hacker Trivizas has joined the workers' compensation team at McCandlish Holton. She has degrees from Virginia Commonwealth University and Wake Forest University.
Finance
Geoff Sisk, Hynson Marvel, Jason Statuta and Tonita Donaldson have joined Raymond James.
William Valentine is an investment executive with Davenport & Co.
Blake Bogese has been named manager for Arcus Lending. He had been with J.G. Wentworth Home Lending of Colonial Heights and is a graduate of the University of Virginia.
Real Estate
Virginia Chenault has been promoted to vice president of property manager with Harding & Associates Inc.

Kimberly Hitchens and Robert Davis have joined Shaheen, Ruth, Martin & Fonville Real Estate as Realtors.
Kay Pangraze and Ken Barnhill have joined the brokerage team at Dominion Commercial as vice presidents.

Patrick Whitaker and Maryann Whitaker have joined Liz Moore & Associates.
Beth Cook has joined the Grove Avenue office of Long & Foster Real Estate.
Joining Commonwealth Commercial from Harrison & Bates:

David Williams, Chip Louthan, Bruce Milam, Steve Gentil and Kit Tyler are senior vice presidents.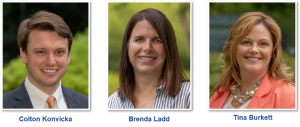 Colton Konvicka is a sales and leasing associate.
Brenda Ladd is marketing manager.
Tina Burkett is a brokerage coordinator.
Government
Elizabeth A. Moore is state archaeologist with the Virginia Department of Historic Resources. She had been with the Virginia Museum of Natural History in Martinsville. She has degrees from State University of New York at Potsdam and The American University.
Nonprofits
At the Better Housing Coalition:

Scott Reithel is vice president of property management. He had been with Community Housing Partners and has degrees from Roberts Wesleyan College in Rochester, N.Y., and the University of New York at Albany.
Jennifer Cunningham is director of fund development. She had been with Virginia Repertory Theatre and is a graduate of Virginia Commonwealth University.
Cindi Kerr is director of human resources. She had been with The Pediatric Connection and is a graduate of the University of Kentucky.
Stacie Birchett has been promoted to vice president of external affairs. She had been the communications director and a graduate of Vermont College of Union Institute and University.
Debbie Loope-Potter has been promoted to associate vice president, BHCM. She had been regional director for BHCM .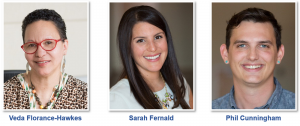 Veda Florance-Hawkes has been promoted to senior regional director, BHCM. She had been a regional director.
Sarah Fernald has been promoted to director of community partnerships. She had been resource development manager and has degrees from Louisiana State University.
Phil Cunningham has been promoted to real estate development manager. He had been real estate development associate and is a graduate of Virginia Commonwealth University.
The board of directors for 2019-2020 Virginia Society of Certified Public Accountants Educational Foundation are: chair, Heather Flanagan with KPMG in Washington; chair-elect, Dianne D. Guensberg with Grant Thornton in Arlington; secretrary/treasurer, Beth Bickford with VSCPA; chairs, Scott D. Davis  with Frank & Co. in McLean; Nicholas Harrison with Dixon Hughes Goodman; John M. Waters with Wall, Einhorn & Chernitzer in Norfolk. At-large board members are: Michael K. Crichton with Burdette Smith & Bish in Fairfax; Jaime Lynn Dernar with Paya Inc. in Reston; Chris Enright with Christopher A. Enright in Montpelier; Cheryl Fields with Owens & Minor in Mechanicsville; Marshall A. Handy with Roger L. Handy in Virginia Beach; Delord King with DCKing Consulting in Glen Allen; Kevin S. Matthews with Beta Solutions CPA in Reston; Melanie Randall with McKinney & Co.in Ashland; Neena Shukla with PBMares in Fairfax; Randy Spurrier with Old Dominion University in Norfolk; Elizabeth Workman with Dixon Hughes Goodman in McLean; Natalya Yashina with Hospitality Investors Trust in Fairfax; and Donna Yenney with Tredegar Corp.
Associations
Lisette P. Carbajal has joined the Virginia Health Care Association-Virginia Center for Assisted Living as director of government affairs. She has degrees from the University of Virginia and Virginia Tech.
Insurance
Joining Kinsale Insurance Co.:
Tyler Hamblen is an associate underwriter, allied health division and is a graduate of Hampden-Sydney College.
Brandon Miller is an associate underwriter, small business and is a graduate of James Madison University.
Jessica McConnell is an associate underwriter, life sciences and is a graduate of East Carolina University.
Kenna Gregory is a claims examiner and a graduate of the University of Mary Washington.
Technology
Joining UDig: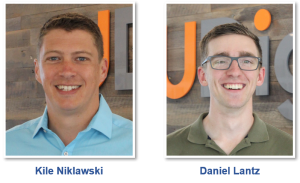 Kile Niklawski is the director of cloud services. He had been with Ippon Technologies.
Daniel Lantz and Adam Johnson are consultants. Lantz is a graduate of The College of William and Mary and had been with Capital One. Johnson is a graduate of Virginia Commonwealth University and had been with The Childress Agency.