Email submissions to [email protected]
Law
Laura Kight Musick has joined the business, corporate and regulatory practice at GreeneHurlocker. She has degrees from Murray State University and Indiana University.
B. Patrick O'Grady has joined Harman Claytor Corrigan & Wellman as an associate. He focuses his practice on the defense of individuals, small businesses, and insurers in connection with personal injury, premises liability, wrongful death, and business litigation.
Michael C. Guanzon has joined Christian & Barton as a partner. He focuses his practice on corporate and business law, public sector, and health care matters. He has degrees from the University of Virginia and the University of Richmond.
Real Estate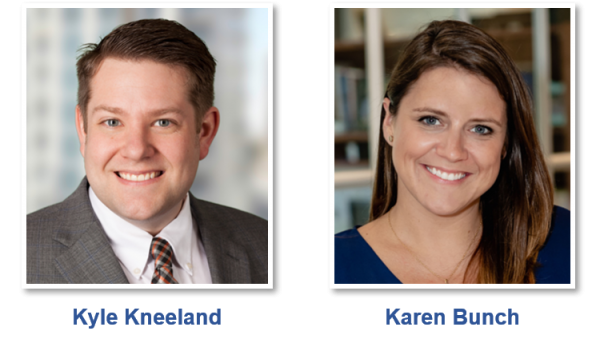 Chip Jones has joined Dudley Resources and KW Commercial as a senior advisor.
Karen Bunch has joined UrbanCore Construction as director of real estate, effective Aug. 2. She had been with Gumenick Properties.
Kyle Kneeland has been promoted to regional vice president – North for Flagship Healthcare Properties. He had been a property manager.
At HHHunt Communities:
Kyle Burns is business development manager. He had been with Shurm Homes and is a graduate of Elon University.
Rachel Atkinson is portfolio manager for Genesis Community Management. She had been with Hampden Sydney College Admissions.
At HHHunt Corp.:
Cami Trainham is corporate communications manager. She had been with THInc.IT and is a graduate of Longwood University.
Accounting
Joanna Friedman has been named a principal with KWC. She specializes in accounting and assurance services for various industries, with an emphasis on real estate. She has degrees from The George Washington University.
Government
Jason Carangelo has been named Richmond's Commissioner of Buildings. He had been building inspections administrator for the city of Savannah's Development Services Department. He has degrees from the State University of New York at Buffalo.
Finance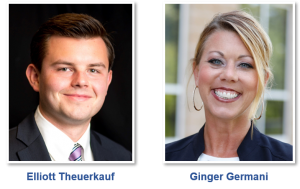 Elliott Theuerkauf has been promoted to associate with Marriott & Co. He is a graduate of the College of William and Mary.
Ginger Germani has joined Atlantic Union Bank as a business banking relationship manager. She is a graduate of Randolph-Macon College.
Charlotte McGee has been appointed market executive of the Virginia market for Bank of America Private Bank. She has been a market sales executive and is a graduate of the University of Virginia.
Architecture/Design
Katie Harrigan has been promoted to director with 3north. She is a member of the commercial architecture studio.
Entertainment/Hospitality
Tracy Coogle has been named associate managing director of Virginia Rep.
Manufacturing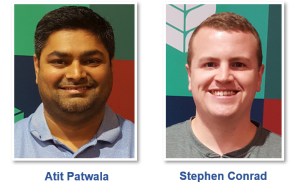 Atit Patwala and Stephen Conrad have joined TemperPack as senior thermal engineer.
Media
Susan Wahl is director of sales for WRIC. She had been with Spotlight Southern Virginia.
Healthcare
Dr. Miguel A. Vega-Gilormini has joined Southside Physicians Network – Obstetrics and Gynecology.
Management Services
At Warren Whitney:
Mike Kelly will serve as senior level controller.
Melanie Pritchard is an administrative assistant.
Associations
The 2019/2020 board of directors of the Independent Insurance Agents of Virginia: chairman, Dennis C. Winfree with Horizon Insurance Services; chair-elect, Jill Roth with Ahart, Frinzi & Smith; 1st vice chair, Priscilla Hottle with Hottle and Associates; treasurer: Ryan Andrew with The Andrew Agency; state national director, Mike Funkhouser with Haun-Magruder; District 1 director, Chris Cralle with Cralle Insurance Agency; District 2 director, Bruce Laderberg with Laderberg Insurance Agency' District 3 director, Eddie Gay with Brown & Brown Insurance Agency of Virginia; District 4 director, Jody Hales with Hales Insurance Agency; District 5 director, Mike Yergey with Yergey Insurance Services; District 6 director, Troy Suter with LD&B Insurance and Financial Services; District 7 director, Forest Wagner with F.A. Wagner Insurance Agency; young agents liaison, Jake Nelson with Hottle and Associates; associate member representatives, Michelle Via with Central Insurance Companies and Shawn Clavon with Rockingham Mutual.