Email submissions to [email protected].
Departure
Shawn Brixey has stepped down from his administrative role as dean of the Virginia Commonwealth University School of the Arts. He will remain a tenured faculty member in the School of the Arts and an affiliate faculty member at the College of Engineering.
Law

Agustin Rodriguez joined the government investigations, compliance and enforcement practice of Troutman Sanders as counsel. He had been with Altria Group. He has degrees from Princeton University and the University of Chicago.
Matthew R. McGuire joined Hunton Andrews Kurth as counsel in the issues and appeals practice. He had been Principal Solicitor General and executive division counsel in the Virginia Attorney General's office. He has degrees from North Carolina State University and George Mason University.
Christina Dwyer joined the health law, litigation, and medical malpractice defense groups at Woods Rogers as an associate. She has degrees from Northern Illinois University and the College of William and Mary.
Joining Williams Mullen: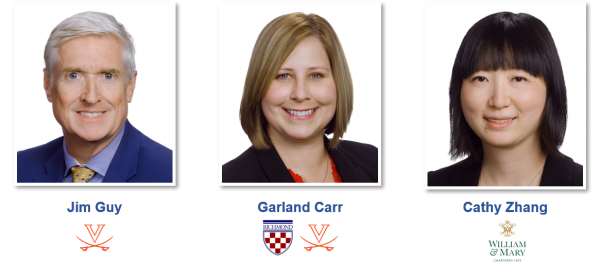 Jim Guy and Garland Carr joined the energy practice as partners.
Cathy Zhang joined the corporate section as an associate. She has degrees from Tongji University in Shanghai, Cornell University and the College of William and Mary.
All three had been with LeClairRyan.
Finance

Tom Hourin joined BB&T as a vice president with the commercial real estate group for the state of Virginia. He had been with Prosperity Bank in Austin, Texas, and is a graduate of Georgetown University.
Heritage Wealth Advisors reports the following promotions:
Sarah Remo Simmer and Alyssa Finchum are relationship managers. They had been a senior client service associates.
Danielle Wyatt and Jack Lowe are senior client service associates. They had been client service associates.
Restaurants/Hospitality
At Revel:
Cory Chaney will become a partner and over the see the restaurant.
Daegan Schneider is chef de cuisine.
John Martin is sous chef.
Jack Carpenter is chef de partie.
Real Estate

Thomas Langston joined S.L. Nusbaum Realty Co. as an associate in commercial sales and leasing. He had been with SVN Commercial Real Estate Advisors.
Meg Montgomery joined Shaheen, Ruth, Martin & Fonville Real Estate as an agent.
Krista McClain joined Exit First Realty as a Realtor.
Heather Bordash and Yolanda Ewings joined the Tri-Cities office of Napier Era Realtors as sales associates.
Construction
Jeff Knupp has joined EDC as superintendent. He had been with Superior Contracting Co.
Nonprofits
At Rebuilding Together Richmond: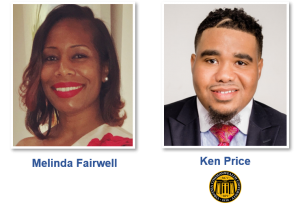 Melinda Fairwell is program director. She had been with Richmond Metropolitan Habitat for Humanity and is a graduate of Eastern Connecticut State University.
Ken Price is an administrative associate.
The 2019-2020 board officers for the Special Olympics Virginia Young Professionals for are: president, Rick Palmieri with Williams Mullen; vice president, Catherine Hyland with Kimley-Horn;
treasurer, John DeMarzo with Keiter; and secretary, Alex Ritchie with Virginia Commonwealth University.
Marketing/Advertising/PR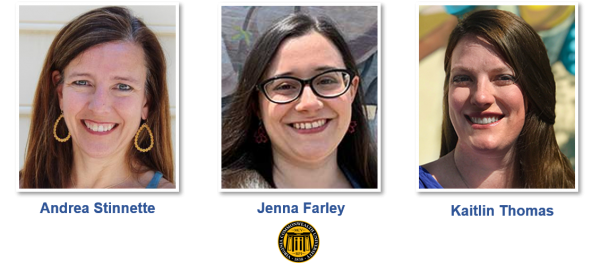 Andrea Stinnette joined Lewis Media Partners as accounting assistant for the digital team. She is a graduate of the University of North Carolina.
At Madison+Main:
Jenna Farley is a junior designer.
Kaitlin Thomas has been promoted to director of account services. She had been the senior account manager.
Associations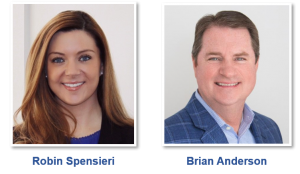 Brian Anderson has been named the president and CEO of ChamberRVA, effective Sep. 30. He is with the Greater Columbus Georgia Chamber of Commerce.
Robin Spensieri has been promoted to vice president of communications and media relations for Virginia Realtors. She had been communications director.
The 2019-2020 board of directors for the Virginia Association of Fundraising Executives: president, Jenn O'Rourke with Richmond Metropolitan Habitat for Humanity; vice president, Robinette Tiller with VCU Massey Cancer Center; treasurer/secretary, Harry Warner with Fahrenheit Advisors; immediate past president, James Wasilewski with VCU Wilder School; other directors, Samantha Charlet with United Way of Greater Richmond & Petersburg; Jennifer Cunningham with Better Housing Coalition; Courtney Elliott with Lewis Ginter Botanical Gardens; Belinda Falconer with The Virginia Home; Sarah Fernald with Better Housing Coalition; Natalie Foster with Virginia Mentoring Partnership; Will Glasco with Preservation Virginia; Corey Humphrey with VCU School of Education; Anne Hurt with Trinity Episcopal School; Kathy Laing with UR Institute on Philanthropy; Samantha Marrs with Virginia Commonwealth University; Virginia McAndrew with The New Community School; Lindsay Robinson with Northstar Academy; David Sams with The Community Tax Law Project; Mary-Beth Yates with the Children's Museum of Richmond; and Roy Zeidman with Special Olympics Virginia.
Manufacturing
Walker Dales is the director of financial planning and analysis.
Brian Williams is the assistant controller.
Liz Duty is a finance associate.