Email submissions to [email protected]
Law
Former Virginia Gov. Terry McAuliffe has joined Hunton Andrews Kurth's Centre for Information Policy Leadership as a global strategy advisor.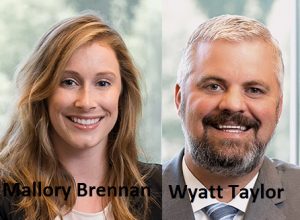 Wyatt Taylor and Mallory Brennan joined Owen & Owens as attorneys.
Kelsey J. Elling joined Harman Claytor Corrigan & Wellman as an associate. She will focus her practice on general civil litigation.
Sean Byrne, Roxanne Millan, Phylicia Preston, Davis Powell and Tony Cottone have formed Byrne Legal Group. Nicole Larsh is the firm's administrator.
Banking/Finance
D. Anthony (Tony) Peay has been named director with C&F Financial Corp. and C&F Bank, effective Nov. 19.
Roth Carroll joined Virginia Commonwealth Bank as vice president, business development and relationship officer. He had been with Atlantic Union Bank.
Construction
Micah Lynn is business development manager for Kinsley Construction Inc.
Travis Arey has been promoted to operations manager with Howard Shockey & Sons.
Real Estate
Shane Doran and Meredith Lauter to the brokerage team of Dominion Commercial.
Retail
Enrique Mayor-Mora has been promoted to senior vice president and chief financial officer at CarMax.
Healthcare
Faraaz Yousuf is the Richmond market president for Bon Secours, effective Dec. 1. He is the chief strategy officer of the Atlantic Group.
Marketing/Advertising/PR
Casey Richardson is director of accounts for Fable.
Derek Fair was promoted to copywriter at Madison+Main. He had been a junior copywriter.
Nonprofits
Joining the board of trustees for St. Joseph's Villa: Donald Alexander with Capital One; Chris M. Layne with First Citizens Bank & Trust; Mark D. Nichols; and Linda M. Warren.
Education
Lloyd Young joined the VCU da Vinci Center for Innovation as a communications specialist.
Elizabeth Bass is assistant vice president of alumni relations at Virginia Commonwealth University, effective Nov. 4. She has degrees from the University of Virginia and Virginia Commonwealth University.
Business Services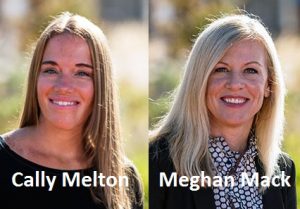 Joining ProspectBlue:
Meghan Mack is the president and chief experience officer.
Cally Melton is the director of recruiting – legal.
Technology
Dave Klein is a senior advisor with Data Blueprint. He has degrees from Carnegie Mellon University and Virginia Tech.
Insurance
Jonathan Munn is a sales executive with RCM&D. He had been with Nationwide Insurance.