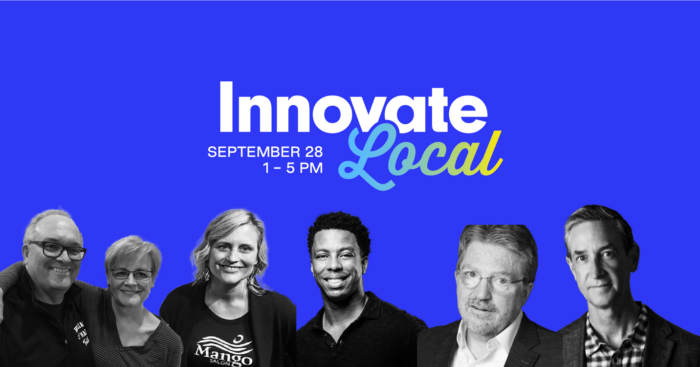 In today's ever-changing business landscape, innovation is the key to success and longevity. But too often, local businesses struggle to prioritize innovation as they navigate competing priorities and tight resources. Recognizing this need, local business advocacy organization InUnison has taken a bold step by launching an inaugural event dedicated to making innovation feel accessible and inspiring businesses to integrate it into their day-to-day activities. Featuring distinguished trainers and insights from fellow local business leaders "InnovateLocal" will leave attendees both inspired and armed with practical tools to help them innovate in their own business.
"InnovateLocal aims to encourage and guide local businesses towards a future where innovation is not just a buzzword, but a fundamental part of their DNA," stated Nancy Thomas, President & CEO of InUnison. By making innovation accessible and showcasing real-world examples, this event promises to spark a culture of innovation within the community, ultimately leading to thriving businesses, empowered entrepreneurs, and a stronger local economy." 
On September 28, 2023, InUnison will present the inaugural 'InnovateLocal: Igniting Success in our Community' workshop, hosted at Triple Crossing in Fulton. Key presentations from local experts include:
Kelly O'Keefe: Applying Creativity to Drive Innovation

 Kelly O'Keefe of Brand Federation will be discussing applied creativity and how ordinary people make innovation happen. He will review why creativity matters more than ever, how to stimulate creative thinking and bringing innovative ideas to life.

Matt Williams: Creative Cultures 

Matt Williams of Brand Federation will join virtually to share his expertise on cultivating a creative culture and effectively harnessing individual creativity within your team.

Aaron Montgomery: Demystifying Innovation

 Aaron Montgomery of Montgomery Development Group will demystify the notion of "innovation" and demonstrate how many world changing ideas were the result of a keen observation and a little common sense.
Mango Salon: A Case Study in Innovation Integration

 Hear from 

Co-Founders 

Pat & Bobbi Heaney and Cari Shannon, VP Marketing & Operations, about their strategies that seamlessly incorporated innovation from day one. Their 'people-first' approach, coupled with technology and educational initiatives, has yielded remarkable outcomes, especially in talent retention. 
Moving Towards a Future of Innovation
The event aims to foster a culture of collaboration and growth within the local business community, while offering individual businesses both the vision and tools needed to transform, including:
Accessible Insights:

 Attendees will gain actionable insights into making innovation an integral part of their daily operations.

Practical Wisdom:

 Kelly O'Keefe and Aaron Montgomery will provide practical guidance, empowering businesses to innovate without the intimidation factor.

Real-Life Case Study:

Mango's success story demonstrates how innovation, when integrated thoughtfully, can yield positive results in talent retention and overall growth.
InUnison's inaugural event seeks to forge a meaningful connection between local businesses and innovation, with the goal of nurturing an inspired community. 
About InUnison 
InUnison is the local, independent business collaborative in Central Virginia. We are dedicated to the success of our locally owned businesses that are the backbone of our community. With roots in the area's Retail Merchants Association, our organization brings businesses together to learn, collaborate, be heard and advance as a whole. As an accessible organization in both cost and in access to benefits, we are recreating the standard for community organizations. Visit inunison.org to learn more about advancing with InUnison.