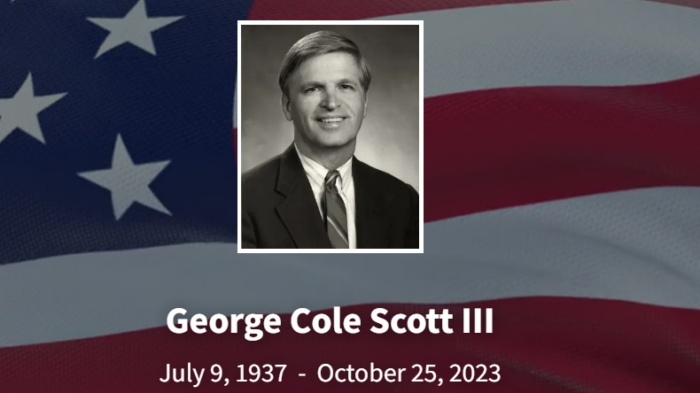 George Cole Scott III, a respected investment adviser who pioneered coverage of the closed-end fund industry, died October 25, 2023, in Richmond, VA after a long illness.
George was a man whose existence had four main components: family, work, faith and service to/for others, and they were often combined in a busy and active life.
Born into an old Richmond family, George attended Woodberry Forest School but graduated from the Hun School in Princeton, NJ. He briefly attended Kenyon College, then moved on to Whitman College in Washington, where he met one of his closest friends and longtime business associate, Erik Bergstrom. In the early 1960's, George was a journalist in London. In 1967, after a 4-year stint in the Coast Guard — where he served as a petty officer on a polar-class icebreaker around Alaska and above Russia – George attended the University of Washington in Seattle, graduating with a BA in English.
While there, he met his wife Leslie in a journalism class, and found they had more than homework assignments in common. They married in 1969 and shared life together for over 54 years.
That time together dovetailed with his investment career. George joined Anderson & Strudwick in Richmond in 1969, later moving to Scott & Stringfellow. In the 1970s, he teamed up with Bergstrom in taking control of a closed-ended fund, which eventually became Bergstrom Capital (BEM), listed on the American Stock Exchange. George remained an active member of the fund's board until it liquidated in 2003 so Erik could focus on his foundation.
That started George's immersion into closed-end funds, an esoteric part of the investment world for which he became a renowned expert. In 1988, George founded The Scott Letter: Closed-End Fund Report — which he published until 1996. A year later he was a founding member of The Closed-End Fund Association.
In 1991, he co-authored a book on closed-end funds, "Investing in Closed-End Funds: Finding Value and Building Wealth, and in 1996, George bought into Closed-End Fund Advisors, a Santa Barbara, CA investment firm co-founded by Frank Cappiello, a long-time regular on Wall $treet Week with Louis Rukeyser. A year later, he became the firm's sole owner, and moved the business to Richmond.
George was a long-time member of the Chartered Financial Analyst Institute and active with the CFA Virginia Chapter. He was active in the Richmond Association for Business Economics where he was known for asking deep and thoughtful questions of nearly every speaker, taking notes on their answers in the little notebook he carried since his time as a journalist.
Shortly after John Cole Scott joined the family business in 2001, The Scott Letter was re-launched in an online format; it was published until 2018. George worked actively in the business until December of 2019, though even in his 80s, he insisted that he would never retire.
But George had many interests beyond work. He was a member of All Saints Episcopal Church, the Country Club of Virginia, the James River Association, the Kiwanis Club of Richmond, Richmond Hill, the Appalachian Trail Club and the Virginia Writers Club. His paternal grandparents George Cole Scott and Hildreth Dunn Scott were founders and early supporters of the Virginia Museum of Fine Arts, one of George's lifelong interests.
George loved history, especially when his family was involved. George was a collateral descendant of John Ledyard, (1751-1789), who he researched for years. Ledyard, famously, was first mate to Captain James Cook. John Ledyard walked across most of northern Russia and once walked 50 miles to have lunch with Thomas Jefferson in Paris. Many thought that George had inherited Ledyard's characteristic love of adventure, energy and travel.
Even if life was challenging, George always had a nice smile and optimistic outlook. Like a true adventurer, he accepted calamity as part of the game. He traveled around the world twice, once in his late twenties and again in his mid-seventies across Russia. George went to Cuba twice in the '90's using a journalism visa and went to Hong Kong in 1998 to witness the changeover to China. George was especially proud of visiting nearly every state in the U.S.
He was a member of The New York State Society of the Cincinnati since 1973, representing his great-great-great-great grandfather Isaac Ledyard, Surgeons Mate, Assistant Purveyor Hospital Department in the New York Regiment and first cousin to John Ledyard.
George also rode along for his family's rich history with trains. In 1985, he took a history class at University of Richmond, researching and publishing a paper "The Richmond & Petersburg Railroad 1836-1898," led in part by his great-grandfather, Frederick Robert Scott. He was a descendant of John I. Blair, who was president and/or director for more than 20 American railroads during the mid-nineteenth century.
George was predeceased by his parents, George Cole Scott II and Ambassador Anne Clark Martindell. His stepmother: Helen Catherine Scott. His grandparents: George Cole Scott, Harriet Hildreth Dunn Scott, Judge William John Clark, and Marjory Blair Clark. His brothers: David Cameron Scott and Andrew Scott.
He is survived by his wife: Leslie Jane Daniels Scott. His children: Jane Scott Barnett (Robert), Anne Scott Carter (David) and John Cole Scott (Katherine). His grandchildren: Robert Lee Carter, Courtney Anne Carter and Alexa Lea Scott. His sisters: Marjory Scott Luther and Kippy Maitland -Smith and his brother Roger Clark Martindell.
George lived life fully with energy and optimism. In leu of flowers, he would far prefer you remember him when indulging in his favorite activities: communing with nature, bird-watching, hiking, cross-country skiing, swimming, sailing, riding a bicycle, reading, writing, experiencing the arts and being immersed and involved with family. With all the places George traveled and experiences he had, nothing meant more to him than his family and coming home.
If you prefer to do something more tangible in his memory, please support: All Saints Episcopal Church, The James River Association or The Virginia Museum of Fine Arts.
Funeral Services will be at 1 p.m., Saturday, November 18 at All Saints Episcopal Church, 8787 River Road, Richmond, Va., followed by burial at Hollywood Cemetery.