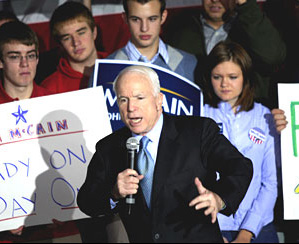 A close presidential race – especially for Virginia's Electoral College votes – could provide a much-needed boost to Richmond's media companies.
TV stations will likely benefit the most, those familiar with the topic say. But catering companies, venues, and consultants might get smaller pieces of the election-spending pie.
Advertising dollars is the biggest slice. Nationwide, Barack Obama has spent $27 million between June and July 30. John McCain spent $21 million in that same time frame, according to TNS Media Intelligence. According to pundits, Virginia is likely going to be a close fight. Ad spending here is in the top five for any state in the country. Obama has spent $2.6 million here, while McCain spent $1.5 million, according to TNS.
Those figures could rise if campaign strategists determine that the state is indeed a so-called battlground. Plus, if Tim Kaine is selected as the vice presidential candidate for Obama, and/or Eric Cantor is selected as the VP for McCain, more spending could follow, as well as more appearances. That could spur local spending which could benefit consultants, caterers and anyone else involved on the election business.
And a boost couldn't come a minute too soon. TV stations and newspapers around Virginia are suffering as advertisers pull back, in particular car dealers and national retailers.
Richmond-based Media General (the parent of the Times-Dispatch) reported $1.5 million in political spending in the second quarter, 60% of which was spent on the presidential election. That helped to offset an otherwise horrendous quarter. Revenues at the company's Virginia newspapers fell 17% compared to the same quarter last year. Classified ad revenue at Media General fell 33%.
Radio is likely the second largest beneficiary after TV.
"If candidates come in and buy a lot of TV, it drives the prices up so local advertisers tend to come off TV and into radio. There's generally a bit of a boom there," said Bob Willoughby, a vice president at Cox Radio.
Radio advertising revenue is down about 10% at Cox, Willoughby said, but the industry is still profitable because of the high profit margins.
At one Richmond TV station, Obama is outspending McCain by almost 8 times.
In documents reviewed by BizSense, Fox 35 WRHL has run $52,000 worth of ads for Obama. About $16,000 of that amount was spent since July 1.
McCain has spent $8,000 at the station. Some of that discrepancy might be because Obama had a much more competitive primary, but Hillary Clinton's campaign spent only $1,320.
Also of note, Mark Warner's campaign has spent $6,857. Jim Gilmore has not spent anything at Fox 35.

BizSense Editor Aaron Kremer will get none of the campaign pie. Please compensate him with story tips instead by emailing [email protected].