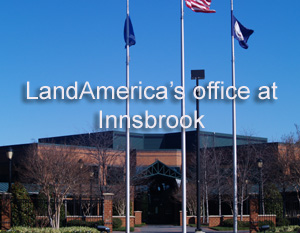 Title insurer LandAmerica has filed for bankruptcy. Three of its underwriting units will be sold, the company said.
The stock is trading at $.20 a share, down 80% from the close yesterday.
Fidelity National Financial said it would buy LandAmerica's underwriting units Lawyers Title Insurance Corp and United Capital Title Insurance Co for $139.4 million. The units Fidelity National is purchasing remain solvent and continue to operate.
Also, Chicago Title Insurance Co will buy LandAmerica's Commonwealth Land Title Insurance Co for $158.6 million. The deals could close as early as late December, a press release says.
LandAmerica's holding company and LandAmerica 1031 Exchange Services have filed for bankruptcy. That business helps property sellers avoid taxes by transferring gains toward another property. The unit had invested funds not yet transferred into auction-rate securities, debt that has been hard to sell all year and remains jammed up.
The company had a special meeting of the Board of Directors on Monday, according to a bankruptcy filing. The subsidiaries (Lawyers Title and Commonwealth) will continue to operate and serve customers, a press release says.
"I am deeply disappointed over the need to file for bankruptcy protection for the LandAmerica holding company and the 1031 company," Chief Executive Theodore Chandler said in a statement.
LandAmerica has requested expedited approval process from the Bankruptcy Court. McGuireWoods is handling the bankruptcy proceeding for the company. There will be a hearing this morning at 11:00. In the bankruptcy filings, the company says it has more than $3 billion in assets, and more than $2.8 billion in liabilities.
The major creditors are banks. Bank of New York Mellon has a claim of $125 million that was part of senior debt paying 3.25%.
Prudential Capital Group has a claim of $100 million.
Sun Trust also has a claim of $100 million.
Part of the company's problems stem from investments that are now inaccessible. The money was invested in auction-rate securities. RBS has obtained a copy of the letter sent to customers of the 1031 Exchange Service business.
Stock analysts said this week that bankruptcy was a possible outcome after rating agencies downgraded LandAmerica's debt ratings. LandAmerica was also in violation of capital requirements from its lenders.
The company employs around 700 people at the Glen Allen headquarters. It's unclear what will happen to those jobs.
Shares of LandAmerica's stock are trading down 88% to $.20 a share in early morning trading. Shares plummeted more than 80% on Monday when Fidelity National said it had looked over LandAmerica's books and said it was not going to purchase the company in an outright stock exchange.
It's a stunning evaporation of shareholder wealth for a company that traded for $100 a share two years ago. It's also likely going to hammer employees who worked at the company and who had company stock (those that didn't sell) The Richmond-based insurance company Markel also had a large stake of stock, but sold some of it in the middle of November.
More Reading: Busted Deal Slams LandAmerica, The Wall Street Journal
The Times-Dispatch is reporting that is will have an exclusive interview with LandAmerica CEO Ted Chandler in tomorrow's paper.
Please send information to [email protected]