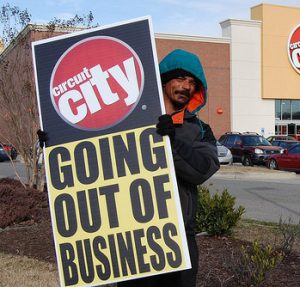 So this is why furniture stores are always advertising "going out of business" sales.
At Circuit City stores in Richmond and across the country, consumers smell a bargain and are dropping thousands on items even though the deals are few and far between.
It sort of makes you think that if Circuit City had lowered their prices a little and advertised sales … maybe they wouldn't have been in such deep trouble.
At the Circuit City at White Oak Village, most items were 10 percent off. Cables and wires were 30 percent off. That still makes TVs, CDs and DVDs more expensive than at Wal-Mart and online. But shoppers were swarming the TV and computer sections. Sales representatives were not allowed to allow any haggling.
An employee told me that the checkout lines were at least 100 people long Saturday. He said one customer bought two TVs that were more expensive on Saturday than three weeks ago, even after the 10 percent discount.
He said a representative from the liquidation company came in and gave the sales staff a brief overview. He said he did not know how much longer he would have work.
The deals will get better as the liquidation progresses.
More reading:
Bedlam breaks out at Circuit City, Cnet
Circuit City closeout draws crowd, AP
Aaron Kremer is the BizSense editor. If you know why so many shoppers are coming out for such mediocre deals, please share by emailing [email protected]
Photo curtesy of Jeff Auth.