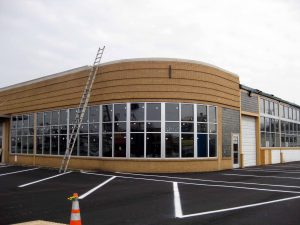 Consumers and businesses might be cutting expenses, but that doesn't seem to stop them from riding in style. James Limousine increased sales 40 percent over the previous year. Now the company rings in the New Year by moving into a 27,000-square-foot facility at 1207 North Boulevard.
Randy Allen, co-owner and vice president of sales and marketing, said the company was running out of room at their previous location on Staples Mill Road.
The new location has double the amount of space. Converting the old warehouse into a full service limousine center wasn't cheap: Since summer, the transportation company has spent more than $380,000 on renovations to the Boulevard facility, according to city permit records.
The upgraded facility will allow the company to store all 21 vehicles indoors and will include an interior detailing station. Vehicles in their fleet range from a Lincoln Town Car sedan to a 34-passenger mini coach.
Allen, his wife, Lynn, who serves as general manager, and business partner Tom Henry acquired the luxury transportation company two years ago. They are the third set of owners. Jim Garrison founded the company in 1992.
Allen said aggressive radio and magazine marketing has helped them grow, as well as a strategy of targeting seasonal events such as prom and the tacky light tours. Allen said business from tacky light tours was as strong as the previous year.
"The retail side has been a very pleasant surprise in that it has held up very well," Allen said.
The presidential inauguration also has given the company a boost. The company will have a large number of their vehicles and chauffeurs working the D.C. area for about five days.
"It's a one-of-a-kind unique event, which is a nice event to have in a rough economy," Allen said.
Although the company might be faring well during difficult times, Allen says there aren't any plans to add new vehicles to the fleet.
"We are taking a conservative approach to 2009," Allen said. "We'll wait and see how the numbers look before expanding any further at this point."