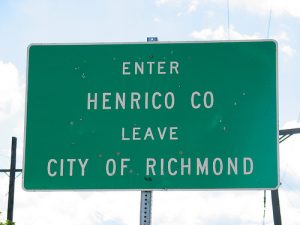 Qimonda, LandAmerica, Circuit City, Genworth.
Four of the major corporations and private employers in Henrico County have shed at least 5,000 high-paying jobs. And it's likely to get worse before it gets better, says Leonard Cake, the county's director of economic development. Still, the county has more than 20,000 businesses, and as of November the unemployment rate was 4.3 percent, according to the Bureau of Labor Statistics. (That will likely rise).
Cake has been working in county government since Short Pump was a cow pasture. He spent 14 years in the planning department before moving to the economic development office, where he has been for the past 18 years.
BizSense sat down with Cake to talk about punishing job losses in Henrico and the county's plan for weathering the storm.
Below is an edited transcript.
Richmond BizSense: What is the impact of the large number of corporate job cuts in the county, and what are the potential aftershocks of that?
Leonard Cake: Henrico has over 20,000 businesses, which is a pretty hefty amount. Just like everybody, we've taken some big hits. Some of the biggest hits we have taken are Qimonda with 1,200 employees and Circuit City with 3,000 employees — and that continues to add up.
When people lose their jobs, it has a ripple effect down to the people you hire at restaurants, because people aren't eating out as much as they used to. If you aren't selling office supplies like you used to, the office supply people may have to lay some people off. Studies have been done that show for every 100 jobs that come to an area, 64 other jobs are created as a result. When you lose 100 jobs, I don't think you lose quite 64, but it is close to that.
But there are businesses that are here that are looking for employees. That is one of the strengths in an economy like this. When someone is looking to expand, they hear that they've laid off X number of people. That provides them with a ready job market. It's a reason for coming here – that's the bright side of the downturn.
RBS: How has the economy affect authority's budget in 2009?
Cake: The budget will stay the same, but we'll tweak our program a little bit. With the existing business side, we are paying more attention to our allies out there: the Capital Area Training Consortium, which helps people with training and finding new jobs, and the small business development center. We'll be spending more time with them.
RBS: In 2009, what do you plan to do differently as you try to lure new business to Henrico, and what sectors will you target?
Cake: I think we're going to continue to work harder at what we do. Our program is set up where we have an attraction program and an existing business program. The attraction program includes international marketing.
What we are seeing now with the dollar devalued the way it is – our biggest number of customers are foreign affiliated companies. Their money goes much further when they come to the U.S., and now is the time for them to set up here.
Henrico has approximately 70 foreign-affiliated companies. The most recent one is kind of surprise to most people: We have two Chinese companies that have located to Henrico County. One of them is a food distributor, and the other one distributes auto parts.
The domestic companies have slowed down a little bit in their plans to expand. They've put them on hold. That doesn't mean we haven't stopped contacting them and trying to convince them this is the place to be.
RBS: The western part of the county has grown considerably in last 20 years. Now we are starting to see more attention to eastern part of the county. How will development differ in the eastern part of the county from how the western part developed?
Cake: There is still plenty of development to take place in the western part of the county. If you ride around, there is still a lot of vacant property. Henrico County is still 51 percent undeveloped, which is a lot of land. There has been a shift to eastern Henrico County.
Everybody knows that's where the county's future is, and that's where most of the land is. You see the shift with the new shopping center [White Oak] that opened up there recently. That's a big indicator that there are enough rooftops out there to support a big shopping center out there.
I think it will be a little bit different in that right now a majority of the industrial development is in eastern Henrico County, and it makes sense. You have two major railroads, the airport and access to the port over 895 to 295.
I think you will continue to see industrial development, but I am thinking you will see some major office development out there. There are some prime sites at 64 and 295 and along the river. I don't think it will only be residential – in that urban mixed-use development, you'll probably see a lot of office space.
RBS: Is the worst behind us or yet to come?
Cake: My feeling is if we are not at the bottom we are very close to it. You see things settling down a little bit, and everyone is waiting to see what the next deal is from the Feds. That's going to have a major impact on whether they start rehiring and things like that.
The housing market is a big drain, especially on the local economy. When a majority of your revenue comes from the tax base, if the appraisals are going down you aren't making as much revenue as you normally do. Some of the houses, especially the newer houses, were valued at prices I thought were way out of the norm, are sliding back a little bit. I think we'll probably have a zero growth budget this year to make sure things stay under control.
RBS: What industries do you expect to see do well in 2009?
Cake: The food industry people – everybody has to eat. I think it's kind of interesting they don't take as big a hit sometimes as the chip-manufacturing guy — the competition there is just horrendous. I would think in 2009 we will continue to see the foreign affiliate companies looking around.
RBS: The Short Pump area continues to grow seemingly without end; do you think the area is overbuilt?
Cake: It's amazing to me, you got Short Pump Town Center, which is probably one of the top three taxpayers in the county. Then you have West Broad Village that's coming along with new retail. We always seem to be able to absorb the new retail coming in. It's amazing to me that it continues.
The people that do retail are not dummies, they do a lot of study on demographics and wages and things like that. They know the rooftops are out there to support this.
RBS: Are there any new companies or project looking to relocate you can announce?
Cake: We're working on two serious prospects. Sometimes the process is very long and sometimes is very short. The ones we are working on now we have been working with for several months. We've been making the short list and things like that, now deciding to come to the metro Richmond area. Now we are waiting to see where do they go in the Richmond area.
We are working on the expansion of some existing companies, which is very good news. That says something about the health of the economy in the general area.