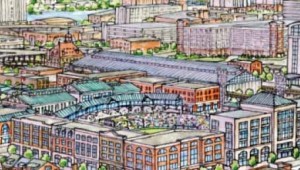 Bryan Bostic thinks he has pitched Richmond the sort of deal it can knock out of the park: a $60 million stadium that seats 7,500 and brings professional baseball back to Richmond with almost no public spending. And the 47-year-old is working more than 45 hours a week to convince Richmond's various interest groups that baseball belongs in Shockoe Bottom. (He has already spent seven years and several hundred thousand dollars.)
And now it's crunch time for him and his crew of potential owners. The deadline to buy a team is in early March.
If the City of Richmond and the State of Virginia do not approve a new authority that could sell bonds for the stadium construction, there will be no deal. The bonds would be financed by tax revenue on the new restaurants and offices as well as rent from the ball club. But without an agreement to raise the money for a new stadium, Bostic and company will not move forward to buy a team and relocate it to Richmond.
In a sit-down interview with BizSense, Bostic, who is in his late 40s, spoke deliberately and at times passionately.
Below is an edited transcript of an interview:
Richmond BizSense: Let's get one thing out of the way first. We ran a column by Brian Glass that protests the use of public funds for the stadium. Is there anything you'd like to address from that column?
Bryan Bostic: First and foremost, we're not asking the taxpayer to foot the bill upfront, nor is the city on the hook for the bonds. Mr. Glass has clearly not done his homework. Ask him to call the mayor of Louisville, who said that the baseball stadium was the single greatest investment by the city in 50 years. Ask him to call the Memphis economic development head, who said the ballpark has been the catalyst for $2 billion of development around the ballpark and brought suburbanites back downtown. Ask him how Toledo paid off a 20-year bond for their ballpark in seven years.
Now, the other thing that Mr. Glass did not do homework on was the reference to the City of Aberdeen. With a population of 14,000 and $7.6 million general fund in 2002, they funded $12 million of an $18 million ballpark. Do the math. They should never, ever have done that without guarantees from the development partner, who by the way delayed building the ancillary development from which bond payment was to be derived. Our proposal is completely different. In fact, the COO of Mr. Glass's employer, Harrison Bates Grubb Ellis, thinks a downtown ballpark is a great idea for Richmond.
RBS: Why do you think there is some loud opposition?
BB: Most people think that it's a no-brainer. But those are not the ones who pick up the phone and call city council. The opponents are first to come out of woodwork.
RBS: Would your sell be even stronger if you could tell local politicians that big business in Richmond has already committed to luxury boxes or sponsorships?
BB: On Oct. 28, the day after we announced the RPF for Main Street Station, I received a text message from an individual requesting naming rights to the stadium. I also received, the same day, three inquiries totaling 55,000 square feet of office space overlooking ballpark.
RBS: That's very encouraging. Is the recession hindering your progress?
BB: This is a three-year development opportunity. It doesn't happen tomorrow. We're in a cycle. Just like we have time and time again, we will come out of the cycle. By doing this now, in essence teeing it up for the future, we are positioning ourselves to take advantage of the opportunity when the tide turns.
RBS: Some critics have asked why you don't fund the stadium and team with all private money?
BB: This is not taxpayer financed. This is TIF financing, which is a financing model used extremely successfully across the country. These are privately placed bonds backed solely by project itself. The stadium would be owned by a newly created authority, called Richmond Sports Facility Authority. The city and the counties, which each contributed $500,000 annually to the Diamond, would not contribute anything.
RBS: The Braves ran a lousy business with poor marketing and mediocre game-day operations. That's one reason attendance was so low. What are you guys going to do differently?
BB: The Braves' number one priority was to produce players for major leagues. That's not the goal of our management. Our goal is to provide highest quality family entertainment and experience. Our management team has over 90 years of family entertainment event management and sports management experience.
RBS: You are a part owner of SmartBox and previously sold an electronic ticketing company. How does this endeavor compare to your prior work in business?
BB: The engine doesn't turn the same in city hall as it does entrepreneurial ventures. When you're dealing with so many moving parts, it's one thing to delegate within your own organization where there's accountability. But when you're dealing with project of this scale, you can control only but so much. You have to rely on other people outside of your direct influence.
RBS: Well, how did your background as an entrepreneur help or hinder you with this process?
BB: You've got to be able to work with other people, to relate to their needs and become familiar with world in which they work, which may not be the same as your own.
RBS: Do you feel that you have a partner in the new mayor?
BB: Mayor Jones has a unique and transformational opportunity in his hands that only comes along once in a generation. We moved to an elected mayor approach because this city is looking for strong leadership. We are indeed looking for that from Mayor Jones.
RBS: Have you picked a name for team?
BB: We have many ideas and will have a contest. One thing is for sure: It will not be named after major league affiliate. It will be tied to Richmond.
RBS: What sort of time pressure are you under to get a stadium deal and then purchase a team?
BB: There are very few teams available at the AAA or AA level, because most have new ballparks and are locked into long-term leases. So the opportunity for Richmond is extremely limited and time sensitive. It may not exist after this March and may not for many years to come. The key for the team investors is a commitment from the city.
RBS: What's the timeline looking like?
BB: We hope to break ground by end of 2009. The hotel, office, retail and ballpark itself, in the footprint of the ballpark, all get developed. What's attached to ballpark happens at one time, it has to. That's what pays bonds back.
Currently, we don't have an agreement with the city. Until we have an agreement, we don't have a project. This is real money. We are willing to make this investment because we are confident we will be successful.
More Reading:
Some facts and figures from the deal
Passion for Success, a Times-Dispatch profile of Bostic
Editor's note: We will be featuring another Op/Ed about the Shockoe Stadium on Friday.