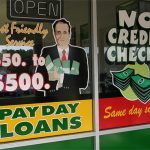 It's déjà vu all over again for payday lenders. Sen. Mark Herring (D-Leesburg) on Thursday introduced a bill that would tighten controls on car-title lenders and prevent payday lenders from evading regulations imposed in 2008.
Both industries operate under the open-end credit law, a legislative loophole that allows companies to charge borrowers whatever they wish as long as no payment is required for the first 25 days.
"There's no limit on the amount. There's no limit on the interest rate. There is no licensing or bonding requirement. There is no supervision," Sen. Herring said.
Lawmakers wrestled over the payday lending issue for three years before passing legislation in 2008 that limits borrowers to one payday loan at a time and extends the length of time they have to repay it.
Sen. Herring's bill seeks to tackle companies that operate under the open-end credit law by putting a 36 percent cap on annual interest rates.
"My bill would stop both car-title lenders and payday lenders from exploiting this loophole and from financially ruining Virginia's families," Sen. Herring said.
As the economy worsens and unemployment increases, lenders say it's likely that the demand for loans, as well as the chance that the borrowers will default, will increase.
"There is an increasing demand for simple, short-term credit and small loans that is not being met elsewhere in the regulated marketplace," wrote Jamie Fulmer, spokesman for Advance America Cash Advance Centers, the nation's largest payday lender.
Like payday lenders, car-title lenders offer small cash loans to consumers but use the borrower's automobile as collateral rather than a paycheck. Through the open-end credit law, car-title lenders are able to charge monthly interest rates that range from 25 to 30 percent and amount to an APR of 300 to 360 percent.
"Most people can't even pay the interest," said Jay Speer, executive director of the Virginia Poverty Law Center.
Interest rates continue to build each month if the principal loan is not repaid, and many borrowers become buried in debt. If a borrower defaults on a payment, his or her car is repossessed.
The General Assembly's efforts to limit payday lending interest rates under the 36 percent cap have failed in the past due to fear that lenders' profits will decrease so substantially that the industry ceases to exist.
This is the first year that legislators have addressed car-title loans.
The bill has received some support in the Senate and was referred to committee for further deliberation.
Sara Griffith is a VCU journalism student and contributed this story through the Capital News Service.