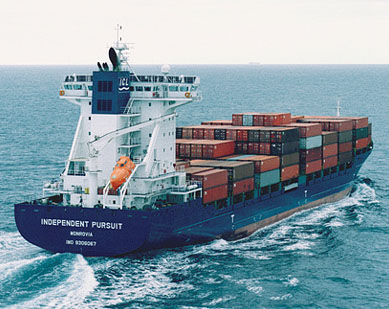 The Port of Richmond will lose its main carrier at the end of March.  Belgium-based Independent Container Lines said last week that it would stop using Richmond to load and unload mid-Atlantic cargo and instead set up in Wilmington, N.C.  ICL accounts for about 75 percent of the traffic at the port, which employs about 50 workers.
"Really, there's just not a lot of local cargo," said Dale Ross, the chief operating officer for ICL.
"By going to Wilmington, another 200 miles south of Richmond, we serve our existing customers through Chester [Pa.] and compete much better with ports in Charleston," Ross said, referring the company's other East Coast port in suburban Philadelphia.
ICL will maintain its corporate headquarters on Audubon Drive in Richmond and continue to employ about 75 workers there, Ross said. ICL's cuts follow news last month that Icelandic shipping firm Eimskip cut back from two ships per month to one ship every 24 days.
David McNeel, director of the Port of Richmond, said man-hours for dock laborers would fall 75 percent.
"In August they told me they were doing a study," McNeel said. "We've negotiating with them to keep them here. They've just decided they felt it in their long-term strategy to widen the market area."
McNeel said he and representatives from local economic development agencies are scrambling to find more business and trying to lure a new carrier. Part of the challenge, McNeel said, is to educate local businesses so that they support a new carrier.
"I think a lot of businesses have overlooked this city's' port," he said.
"Now we have to market the area, to put in extra effort and let the industry know we're here and we're a player for cargo."
McNeel also said he is interested in trying to secure possible federal bailout dollars for port improvements. The James has a navigable depth of 23 feet, which restricts the size of ships that can safely chug the 80 miles upstream to Richmond.
ICL established a presence at the Port of Richmond more than 20 years ago to transport tobacco leaves and cigarettes to Europe. But starting about five years ago, cigarette companies moved manufacturing of Europe-bound products across the Atlantic, according to Ross.
More recently, ICL has moved manufacturing materials such as steel and plastic resins.
The trickledown effects of the relocation are unclear. It's likely that the departure will harm short-range trucking firms but might benefit those who transport goods from Chester to Richmond, McNeel said. It's also likely that truck traffic will increase on Interstate 95.
Aaron Kremer is the BizSense editor. He covers transportation. Please send news tips to [email protected]