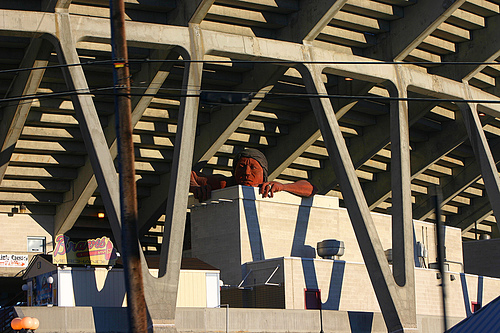 The debate over a ballpark in Shockoe Bottom has hit the World Wide Web.
Charlie Diradour, president of Lion's Paw Development Company, recently launched the site Baseball on the Boulevard as place for the Richmond community to discuss the many different sides of the prospect of a downtown stadium.
"The site in and of its self is a platform for people to vote on the Bottom side or the Boulevard side of the issue and make their opinions known," Diradour said.
Diradour is adamantly opposed to the proposal by Highwoods Properties to build a multi-million dollar sports entertainment complex in Shockoe Bottom, a portion of which will be financed by the City of Richmond.
He said the Diamond should be replaced and a ballpark built there.
"On the Boulevard you already got some mixed use development starting to occur, why don't we take that momentum and build a baseball stadium there?"
Intial reaction on the site has been exactly what Diradour expected. He said the comments so far are mixed fifty-fifty between people that are strongly on one side or the other.
Diradour also set up a group on Facebook yesterday called "I Support Baseball on the Boulevard", which so far has 87 members. (Another Facebook group called "I Support Baseball in Shockoe Bottom" has 519 members, but has existed for a longer period of time.)
"I've been called anything from a wolf in sheep's clothing because I am developer, to garnering thanks for putting the site up," Diradour said.
Diradour's company Lion's Paw Development primarily does restaurant and retail development in The Fan, Near West End, and North Side. Last year his company completed the renovation for Delux Restaurant on West Main Street.
To join the discussion visit http://www.baseballontheboulevard.com