Sandston, the small Henrico village near the airport, isn't exactly a company town. But the thousands of employees at Qimonda helped support a handful of locally-owned shops and eateries.
One of the first customers at Lizzy Peas Express was a Qimonda worker, according to manager Ollie Taylor (pictured above).
"She went back and told other people, and they started coming," Taylor said.
Taylor's daughter, Michele Glover, opened the home-style restaurant and catering business on East Williamsburg Road in Sandston about a year ago.
With the chip manufacturing plant announcing this week that it will shut down, the takeout spot stands to lose about 25 percent of its regular customers, Taylor said.
"I am sorry to see them leave," Taylor said. "We may have to adjust our hours to adjust for the lack of patronage from the Qimonda staff."
Qimonda announced Tuesday that it was shuttering the plant, letting go about 1,500 workers. In October, they laid off 1,200 employees. The loss will be felt throughout Richmond. Qimonda was the largest single employer for VCU engineering graduates and the biggest single taxpayer in Henrico County.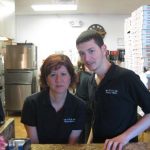 But the loss will be particularly hard on Sandston. Across the street from Lizzy Peas,  Anna Mannino (pictured right), owner of Roma Ristorante Italiano, www.romaitalian.com said she has already felt the impact from the first round of layoffs. Now that the plant has shut down completely, she said, she expects to lose up to 20 percent of her day-to-day business.
Mannino said she has noticed a dramatic mood change among the Qimonda employees who still come in to eat.
"It looks like a funeral, just like somebody died," Mannino said.
Her son, Antonio, said the Qimonda crowd will be missed. "A lot of them are like regulars," he said. "A couple of guys we got to know on a first name basis."
A little farther along Williamsburg Road, Sandston Bistro and Shakes owner Louay Abdul-Jabbar said he will lose as much as 40 percent of his lunchtime business.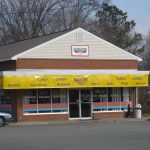 "I don't see any more people from Qimonda," Abdul-Jabbar said. He said he might have to cut hours.
It isn't just the restaurants that will feel the effects. Barbara Corey, owner of Short Cuts hair salon, said about 150 of her clients are Qimonda employees. There at least three other salons and barbershops along Sandston's main drag.
But not all of the area's businesses have such a large contingent of Qimonda customers.
John Ragsdale, owner of Sandston Cleaners, said he only knows of two customers who are Qimonda employees. One of them still comes in since being let go during the first round of layoffs, Ragsdale said.
"I'm upset to see it, but it is a very volatile industry," Ragsdale said. "I basically figured when they filed for bankruptcy that they were gone."
Some of the lost business could be replaced when the United States Postal Service opens a 700,000-square-foot mail-processing center adjacent to the Qimonda property.
USPS spokeswoman Cathy Boule said the facility, currently under construction, could open as early as fall, but definitely by this time next year. The facility will employ an estimated 1,200 people, Boule said.