Richmond-based men's clothier  S&K Famous Brands, Inc has filed for Chapter 11 Bankruptcy Protection in an effort to get out of leases, trim costs, and prevent further erosion of vendor confidence.
The company lists assets of $41,440,100 and debts of $35,499,000 (not including operating leases). There will be a hearing at 2:00 today in Richmond.
After earning $2.78 million in 2007, S&K lost $3.98 million in 2008.
S&K will try to use the filing to get out of leases of underperforming stores, including one at Virginia Center Commons. It was also try to get out of contracts with local marketing firms, including $1.32 million with the advertising firm RightMinds and $402,000 with the media buying firm Kinton & Stallings.
Vendors were getting nervous, the filing states. "In some instances, the Company's terms were changed to cash in advance. This significantly strained operations because the Company found it difficult to sustain adequate product inventory and other store supply levels," writes Richard Hardy Jr, VP of Finance and Information Technology, in a written deposition.
The retailer, which was founded in Richmond in the 1960s, was also unable to borrow through traditional channels. Wells Fargo, one of the company's banks, also upped the amount it was requiring be kept in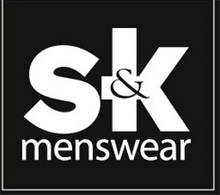 reserve inventory.
In July of 2008, the company hired turn-around firm Alvarez and Marshal. At that time, S&K had 219 stores. They now have 136. According to the filing, the S&K can save $3.8 million per year if the leases are voided.  S&K had already put its Glen Allen headquarters up for sale.
Employees will continue to get paid as normal, according to the filing. The company had 716 full-time employees and 699 part-time employees at the end of January. Fifty-one of those are at the headquarters in Glen Allen. Executives already took pay cuts, and may need to do so again.
S&K was started in Richmond in 1967 by Abe Kaminsky and Hip Siegel.  They intended to offer a quality product with excellent service at a reasonable price, according to the filing. The company had 100 stores in 1990 and 200 stores in 1997. It's unclear exactly when the business model started failing. But in 2005, the company was delisted from NASDAQ.
Stuart Siegel, the company's chairman and son of the founder Hip Siegel, owns 15% of the stock.