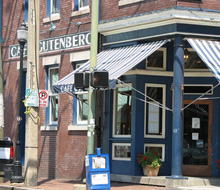 European-styled Café Gutenberg in Shockoe Bottom is under new management. The restaurant's chefs, Jen Mindell and Garrett Barry, purchased the restaurant from the previous owner last month. The restaurant is closed while Mindell and Barry refine the menu and revamp the interior.
The previous incarnation of Café Gutenberg had a multifaceted image as a coffeehouse/bookstore/wine lounge. Mindell said she and Barry plan to pull out the bookshelves and put more emphasis on the food. The café will still serve coffee and espresso, but Mindell said they don't want to be labeled as a coffee shop.
"We want to breathe new life into the café," said Mindell. "Our menu will focus more on lighter and more fun food, and a little bit more affordable food."
The emphasis on brunch and vegetarian options is summed up by the restaurant's new slogan: "Brunch all day for carnivores and vegans."
The menu will include breakfast panini, banoffi pie, the Gutenburger and the Vietnamese-style banh mi sandwich with grilled tofu or braised pork. Additions will include expanded vegetarian offerings, Gutenburger sliders and apple pie waffles.
"We're working hard to come up with the perfect fish and chips," Mindell said.
Café Gutenberg first opened in 2003; it closed for four months in 2004 after Tropical Storm Gaston.
Mindell said they plan to reopen at the end of February. The café's website http://www.cafegutenberg.com/ is also undergoing redesign and should be up and running soon with updated information on the reopening.