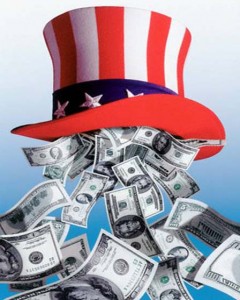 The Commonwealth of Virginia has launched a new website to solicit proposals from the public as to how the state should spend federal stimulus dollars.
Virginia is expected to receive close to $3 billion of the estimated $800 billion stimulus package going through Congress.
Anyone can go to the site and submit their email address to receive a link to the online submission form.
As of this afternoon 1,200 proposals have been submitted since the site launched on Tuesday. The estimated funding needs of the publicly submitted proposals so far exceed $2.39 billion.
There are several interesting proposals for the City of Richmond including $72.3 million for University of Richmond construction projects, $40 million for street and sidewalk repairs, $1 million for the Virginia Capital Trail, and $150,000 for community supported agriculture.
Another proposal asks for the $8 million the city needs for infrastructure improvements if it approves the plan to build a downtown ballpark complex in Shockoe Bottom.
While most of the proposals are arguably legitimate, there are quite a few that are either in protest of the federal spending plan or just plain ridiculous.
Below are five of the most off-the-wall proposals:
Project 428: Virginia Small Business Beer Stimulus Initiative
Locality: All of Virginia
Funding Estimate: $48.6 Million
Description: This project will encourage small business development by giving a six-pack of locally-made beer to every adult in the Commonwealth. This project will take one year to finish. The final stimulus amount assumes an average cost of $7.99 per six-pack, plus a 10% administrative fee.
Project 327: Homeless Cleanup
Locality: Richmond
Funding Estimate: $10,000
Description: This project would hand out garbage bags to the homeless people in the city of Richmond. The homeless would walk around and pick up garbage and litter in places all over Richmond. In exchange for garbage bag full of litter would be a meal, or clothes, or hygiene products. There would be regulators available at a determined location for the exchanges. This will help give homeless people productive work as well as cleaning the city at the same time.
 
Project 515: Giant Friggin Map
Locality: Alexandria
Funding Estimate: Not available
Description: I think we should build a giant friggin map of Virginia. Like, a life sized map.
I know what you are thinking, where would we store this giant map of virgina since it will be as big as virgina we won't have anywhere to store it. Well, how about Maryland, no one likes Maryland except for my buddy Sung. Maybe we could cut a hole out of the map so he could still live in his apartment and have wii parties.
Project 266: Hardwood Floors in My House
Locality: Fairfax
Funding Estimate: $3,000
Description: I am seeking $1,000 to put hardwood floors in my house. Approximately 400 square feet of hardwood flooring will be purchased and installed by a private contractor. This will create one job not to mention the financial benefit to the flooring company.
Project 273: Torch it
Locality: Not available
Funding Estimate: Not Available
Description: Buy a Bic lighter, should be less than $1. Use the lighter on the 700+ pages of the stimulus package.
Visit http://stimulus.virginia.gov/ to read the proposals, or submit your own.