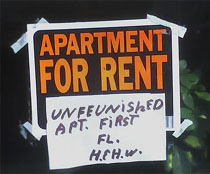 The U.S. Census Bureau says the Richmond metro area has the highest residential rental vacancy in the country, but local rental agents aren't buying it.
The Census Bureau reported this month that the Richmond area had a rental vacancy rate of 23.7 percent.  That puts Richmond in the unenviable position of being the worst rental market out of the nation's 75 largest metropolitan areas. In the fourth quarter of 2007, the Census Bureau reported Richmond's vacancy rate was 16.3 percent. For comparison, the vacancy rate in Virginia Beach-Norfolk-Newport News was 8.4 percent.
The study was conducted via computer-assisted telephone and personal visit interviews of property owners at more than 70,000 addresses. Rental homes, rooms for rent and apartment units are factored into the vacancy calculation.
Patrick McCloud, chief executive of the Central Virginia Apartment Association,  said he isn't seeing the vacancy rate reported by the Census Bureau. His association just completed a survey of 52 multi-family apartment properties and calculated an 8 percent vacancy rate. The data were collected Jan. 15 through Jan. 25.
McCloud said that even an 8 percent vacancy rate is unhealthy. A normal vacancy rate for the area is between 4 percent and 5 percent, he said.
McCloud said that people choosing to move back in with family to save money has sapped demand. He said the slowing economy might lead to an even higher vacancy rate in the summer.
"A lot of college students that make a migration to find a place on their own might not make that choice," McCloud said.
Landlords are increasingly eager to find tenants. McCloud said they are offering a lot of concessions right now to keep their rental properties occupied. He estimates the concessions amount to a 10 percent discount when spread over the course of a year lease.
Several area property managers said that the vacancy rate being reported by the Census Bureau did not reflect the percentage of vacant units they represented.
Holly Hilton, property manager at Pohlig Box Factory apartments, said she has only one vacant apartment out of 65 units. A two-bedroom unit rents between $1,000 and $1,500.
Robert Burke, residential property manager for Pollard and Bagby,  said they only have 25 to 30 empty properties out of 800 units, a vacancy rate of about 4 percent.
"We've had a handful of people say, 'I lost my job and can't pay the rent,' but we get that anyway," Burke said.
David Gould, director of property management for Century 21 Signature Realty, said his properties have a vacancy rate close to 4 percent at the 300 single-family rental homes the company manages.
Gould said the vacancy rate of their properties is improving.
"The market was terrible up until a couple months ago, and then it started picking up again," Gould said. "It was 10 percent a few months ago."
Gould said he thinks the improvement could be attributed to an increase in people who can't get approved for a mortgage and people getting foreclosed upon entering the rental market.
One aspect of the home rental market that isn't improving is executive housing. Gould said they work with several multinational companies in town.
"There is very little corporate transfer. That has definitely had an affect on executive rental housing," he said.
Al Harris is happy as a renter, for now. He covers real estate for BizSense.