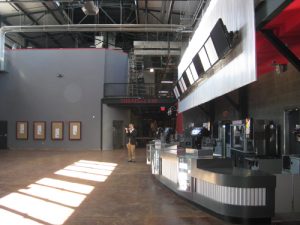 Movieland by Bow-Tie Cinemas, Richmond City's first movie theater in 35 years, opened its doors to the press to showcase the 17-screen multiplex in advance of its opening Feb. 27.
Built inside a 19th-century locomotive assembly plant, the gray-and-red lobby has a gritty, industrial feel. There is plenty of exposed brick and steel beams, most of which is original to the historic building. The lobby's rust-colored concrete floor stands out from the carpet or tile typically found in Richmond's suburban movie theaters. (You can watch an RBS video here)
But the lobby is not without modern amenities, including a beer and wine counter. The movie theater will have Stella Artois, Sam Adams and Miller Lite on tap.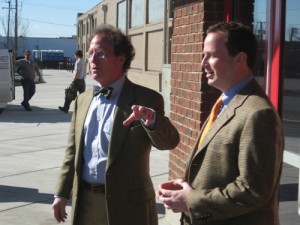 Father and son owners Charlie and Ben Moss said they were awaiting word from the Virginia Department of Alcoholic Beverage Control as to whether patrons would be able to take fermented beverages into the auditorium.
Popcorn aficionados will be delighted by the self-serve melted butter machines on either side of the concession stand.
The auditoriums feature a more luxurious aesthetic. The seats are custom designed with wooden backs and padded arm rests and are upholstered in a velvety type of black fabric. Each auditorium has between 100 and 300 seats, and two of them are equipped with digital projectors designed for showing 3-D movies.
Outside the theater, a restaurant space is being developed, which Ben Moss said will be offered for lease in spring. A planned retail development adjacent to the theater is on hold until the market improves, Moss said.
This is Bow-Tie Cinemas' first foray into Virginia, but it might not be the last.
"We are actively looking for new sites in Maryland and Virginia," Moss said. "It is very appealing to do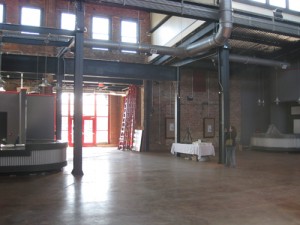 business here."
Moss said the community response has been overwhelming. More than 1,000 Richmonders have joined the theater's Criterion Club, a loyalty rewards program.