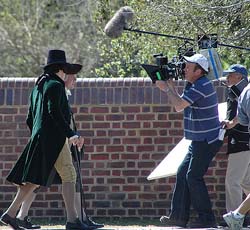 Yesterday the General Assembly approved a 10 percent tax on hotel room media purchases to fund the attraction of film production projects to the state.
The House of Delegates passed the bill with a vote of 69-27. The Senate approved the bill earlier this month by a vote of 36 to 3.
The bill now goes before Governor Tim Kaine for final approval.
Half of the tax would go to the state's general fund, and the other half will go to the Governor's Motion Picture Opportunity Fund.
 The tax applies to in-room digital media purchases at hotels, such as pay-per-view movies.
The tax will generate an estimated $750,000 to $2 million for the fund, according to Bud Oakey, a lobbyist for the bill.
The fund is used by the Virginia Film Office to entice production companies to film in Virginia. For the last few years, Virginia has been losing multi-million dollar film projects to other states with more competitive incentive programs.
BizSense previously reported on the bill and the Virginia film industry earlier this month.