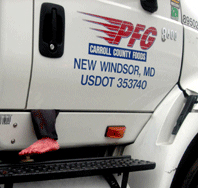 Locally-based food distributor Performance Food Group is downsizing its purchasing division. About 98 people will lose their jobs, according to paperwork filed with the Commonwealth of Virginia.
Last Friday, the company announced that its independent purchasing organization, Progressive Group Alliance, would outsource its food service and group purchasing operations to Atlanta-based UniPro.
The deal was made to widen PFG's access to suppliers and increase its purchasing leverage, according to a PFG news release.
Several calls to PFG and Progressive Group Alliance went unreturned.
The layoffs at Progressive Group Alliance will take effect in mid-April, according to documents filed with the state. Richmond BizSense was unable to determine the severance packages.
Progressive Group Alliance is at 7420 Ranco Road in Henrico County. It is located near Staples Mill and Hilliard roads.
PFG is a Fortune 500 company with more than $6 billion in revenue, according to Fortune magazine.
The company's roots can be traced to 1875, when a Richmond-based food brokerage began distributing canned fruits and vegetables to grocers in the Mid-Atlantic. Today PFG distributes food service products to restaurants, hotels and organizations in all 50 states and 41 countries.
The company was publicly traded until last May, when it was acquired by Blackstone Group and Wellspring Capital Management and merged with another food service company.