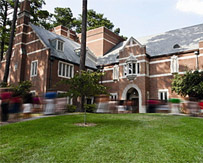 The University of Richmond's Robins School of Business moved up eight slots to No. 12 on BusinessWeek's list of top undergraduate business schools.
That puts Robins just ahead of the University of North Carolina at Chapel Hill and just behind Villanova.
UVA's McIntire School of Commerce won top honors, beating out the Wharton School of Business.
Business Week looks at nine factors to determine its rankings, including  student satisfaction, post-graduation outcomes and academic quality. Click here to read more about their methodology.
The Robins School earned a No. 1 ranking in academic quality, an honor it shares with three other schools.
In 2006, the first year of the rankings, the school came in at No. 25.
Jorge Haddock, the school's dean, said in a statement that high-quality faculty and students, strong corporate support, and alumni backing continue to drive Richmond's rise.
"The generosity of alumni and friends enables us to provide students with a small-class environment that is conducive to high-quality education," Haddock said.  "And the median starting salary of our graduates has increased again this year, continuing the upward trend of the past several years."